Quick Navigation : Gallery | Introduction | Booking Process | To Make a Reservation | Flyer | Map and Address
Gallery
Introduction
Since Towkay Leong Fee founded this Hakka Miners' club in 1893 it has always been a place of mystery as entry was barred to everyone except club members and their VIP guests. However the club building now houses a private exhibition, but nonetheless entry remains something special and is by appointment only.
Appointments may be made, up to 30 days ahead, via this website or by calling at the door (between 9 am and 5 pm Tuesday to Sunday) and the maximum number of guests at any one time is normally 20 on the grounds for comfort and safety, additional numbers can be taken by arrangement via [email protected] or Tel: +60 (0)52414541). The appointment schedule showing date, time and number of places available is on the next page. Visitors must bring their appointment confirmation email with them in hard copy or on their phone. This specifies booked numbers in the group and contains the passcode. We shall be happy to welcome you to this very special and unique Ipoh building, but reserve the right to refuse admission should we consider it appropriate.
Admission Charges
As a not-for-profit organization based on education, our policy has always been to encourage people from all walks of life to visit the museum and we recognise that a fixed entry fee would restrict the less well-off families from enjoying our tour.
Consequently there is no fixed entry fee for the general public on scheduled tours but visitors will be asked to make a donation to the upkeep of the building. The recommended donation is RM10 per adult, RM5 for children and students. However if you genuinely cannot afford to donate then you do not have to do so.
For commercial tour companies, we understand that 20 pax is usually insufficient, therefore additional numbers (which will be divided into smaller groups) can be taken with prior arrangement to [email protected], Tel: +60 (0)52414541. Regarding admission charges, we require a donation of RM10 per adult (RM5 for children and students) from the tour company, for each guest of the party. These donations will cover the cost of additional staff and assist with the upkeep of the building.
Booking Process
Click the 'Start Here' button to begin, choose the preferred time slot, complete the simple form and finally click the 'Confirm Reservation Button'. The process should not take longer than 2 minutes and you will receive a confirmation e-mail which will confirm your booking.
To Make a Reservation
Flyer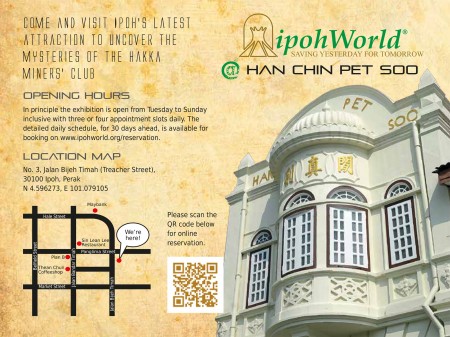 Map and Address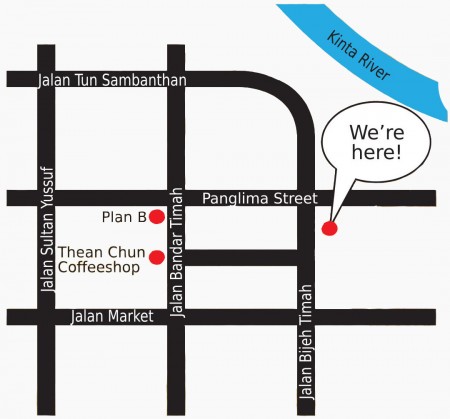 Address: No. 3, Jalan Bijeh Timah (Treacher Street), 30100 Ipoh, Perak
Accommodation
To find accommodation nearby Han Chin Pet Soo, check HotelsCombined.
GPS Location
GPS: N 4.596273, E 101.079105