A series of short articles from: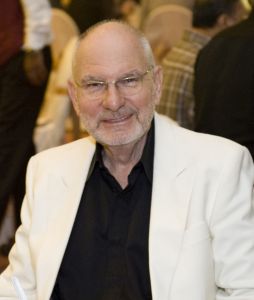 By Author Ian Anderson
Ian, a retired Royal Naval Commander and Permanent Resident of Malaysia, has lived in-country since 1989. A heritage enthusiast, born in 1939, he founded ipohWorld, (www.ipohworld.org) in 2004 and has been the man behind thes not-for-profit heritage company ever since. The company is sponsored by Kinta Properties. A world-wide traveller, who has visited more than 70 countries and who owned his own museum for more than 20 years, has a wealth of experience in heritage and history. Accomplished author and speaker, he edited, compiled and sponsored the popular book, 'Ipoh, My Home Town'. He has a Malaysian Chinese wife.
---
These short articles are written for the Ipoh Echo as part of an effort to bring awareness and appreciation to Ipoh's Glorious Past.
*Latest
16/12/2019
Heritage – Santa Claus Is Coming To Town
1/12/2019
Nostalgia – Architecture Of The Night 2
Heritage – New Town Ipoh, After Dark
16/11/2019
Nostalgia – Boutique Hotels Of Old
Heritage – What! No Heritage Hotels
1/11/2019
Nostalgia – A Different Sort of Chop
16/10/2019
1/10/2019
Heritage – Chew Boon Juan, The Chew Family Patriarch
Nostalgia Yeoh Ghim Khoon, Transport Entrepreneur
16/9/2019
Heritage – Ipoh's Heritage – Herbal Tea
Nostalgia – How about a Nice Cup of Tea
1/9/2019
Heritage – Where Have All the Old Pubs Gone?
Nostalgia – Let's Go On A Pub Crawl
16/8/2019
Nostalgia – Memories of Merdeka
Nostalgia – One Man's Rubbish is Another Man's Collectible
1/8/2019
Heritage – Shorthand – or Outgated Skill
"Nostalgia – Schooling Doesn't Assure Employment, but Skill Does"
16/7/2019
Nostalgia – Old Time Entertainment – Kampar Style
Heritage – It's 1937 And Kampar Celebrates
1/7/2019
Nostalgia – Clubs And Clubbing The Early Days

Heritage-An-Ipoh-Centenarian-Still-Going-Strong
16/6/2019
Nostalgia- Necessity is the mother of invention

Heritage – A Heritage That Spans 115 Years
1/6/2019
History – A Char Kway Teow Stall in Fair Park

Nostalgia – Remembering New Pasir Puteh
Nostalgia – Here Comes The Milo Man
16/5/2019
Nostalgia – Ipoh(s) Beef Noodles
Nostalgia – Mobile Hawkers, Accessible and Affordable
1/5/2019
Nostalgia – The Foochows Of Sitiawan
16/4/2019
Nostalgia – Kledang Hill In The 1950s

1/4/2019
Heritage – A mansion, motherhood and a murder
Nostalgia – Lau Ek Ching, Entrepreneur & Philanthropist
16/3/2019
Nostalgia – Some Famous Ipoh Indians

1/3/2019
Cover Story – Everybody's Nephew
Nostalgia – Bangsawan, the malay opera
16/2/2019
Nostalgia – Dr Wu Lien Teh

1/2/2019
Nostalgia – Ipoh is a Chinese Town

16/1/2019
Nostalgia – Sikhs and the Perak Police Force
16/12/2018
Nostalgia – Christmas Comes but Once A YearNostalgia – Is FMS really opening
Nostalgia – Is FMS really opening

1/12/2018
Heritage – A Death Knell for Ipoh's Heritage

16/11/2018
Cover Story – The Ipoh Renaissance, Old Town Out of Control
1/11/2018
Nostalgia – Missing Memorials, Malaysians have short memories

16/10/2018
Heritage – 14 years on the heritage trail

1/9/2013
Introduction to the Author – Doggedly Determined Doer
1/3/2012
9/3/2010
Continuing the Introduction to Belum and Temenggor
20/2/2010
An Introduction to Temenggor Belum Forest and Lake
16/3/2009
FROM TAMBUN TO TSODILO – Tambun paintings – it's protection first before tourism
---
The following short articles were written for Ipoh Valley of Dreams (IVOD), the corporate lifestyle magazine of the Kinta Properties Holdings, Meru Valley Resort and the Tenby Schools Group published quarterly. It was discontinued in 2018.
Issue 35 – Apr to June 2017 – Birthday Greetings from the Kathigasus
Issue 34 – Jan to Mar 2017 – The Merryweather Greenwich Steam Fire Engine
Issue 33 – Oct to Dec 2016 – Meals on Wheels – Old Ipoh Style
Issue 32 – Jul to Sept 2016 – The Men Who Built Ipoh
Issue 31 – Apr to June 2016 – Old Towm's Heritage Corner
Issue 30 – Jan to Mar 2016 – Legends of the Spring Festival
Issue 29 – Oct to Dec 2015 – 1893, A Milesone Year for Ipoh's History
Issue 28 – June to Aug 2015 – Heitage Mosques of Old Ipoh Town
Issue 27 – Mar to May 2015 – Nothing but Smiles at Han Chin Pet Soo
Issue 26 – Dec 2014 to Feb 2015 – The Once Ubiquitous Latex Collecting Cuo
Issue 25 – Sep to Nov 2014 Dragon Pots & Centuy Eggs
Issue 24 – June to Aug 2014 Kampung Tanjung Bangkung and the Japanese Carbide Factory
Issue 23 – Feb to Apr 2014 – Historic Batu Gajah
Issue 22 – Dec 2013 to Feb 2014 – Leomg Fee and the Hakka Miners' Club
Issue 21 – Aug to Oct 2013 – The First Japanese Invasion
Issue 20 – May to Jul 2013 – The Great Mifration – First Part
Issue 19 – Feb to Apr 2013 – The Great Mifration – Part 2
Issue 17 – Aug to Oct 2012 – The Great Mifration – Final Part
Issue 16 – May to July 2012 – Dulang Washer
Issue 15 – Feb to Apr 2012 – Maniam the Milo Man
Issue 14 – Nov 2011 to Jan 2012 – Book Launch – Ipoh, My Home Town
Issue 11 – Feb to Apr 2011 – The Wonders of Batu Gajah