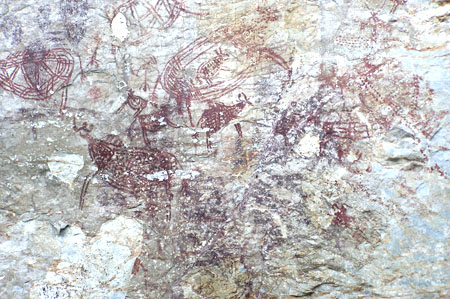 High on an abrupt limestone cliff near Ipoh, a whole series of rock paintings drawn with haematite paint were discovered in 1959 and are estimated to be between 5,000 to 12,000 years old!
They were discovered by an Englishman, one Lieutenant R L Rawlings, who was serving with the 2nd Battalion, 6th Queen Elizabeth's Own Gurkha Rifles as part of the Commonwealth Armed Forces' presence in Malaya for the Malayan Emergency.  It was one of the most important historic discoveries in the country, in our opinion second only to the Perak Man.
Access to the paintings is not easy as there is no indication from the main road that they even exist; then the path is overgrown; the one signboard at the foot of the cliffs is rusting away; and the concrete steps, erected by the Museums Department are overgrown and slippery. However for the dedicated enthusiast access is just possible with care.
The paintings are situated on a wide ledge at the top of a steep slope, about 30 plus metres above the floor of Lembah Kinta on a smooth limestone cliff.  Some 6 metres or more above the ledge, there are a number of illustrations of wildlife, people and abstract designs. Some are quite small while some of the animals are more than one metre long.  We believe they are the first and only ancient rock paintings known in Malaysia. As ones eyes grew accustomed to the glare, it is obvious that the sunlight is fading the artwork while water has completely eroded some parts of the sketches.
In November 1959, J.M Matthews, an author in an issue of Malaya in History – Magazine of the Malayan Historical Society, wrote this description of the discovery: "The paintings are monochrome – indistinct. In some groups, the paint is dark purple, in others, dull red. Some of the figures are obviously men, rather crudely drawn. Some of the animals are easily identified, others are rather vague and imagination is needed for their representation".
However we were still able to recognize most of the paintings; there are wild boars and a dugong, a tapir and deer. The latter are fascinating appearing as pregnant does, one with a small infant drawn inside its swollen frame. At one time, we are told, this gallery of paintings stretched for more than a hundred feet, but over the last 50 years most of it has disappeared.
However, there are still enough paintings to prove that long before the history of the Malay Peninsula was written, there were primitive men living in Lembah Kinta, who illustrated the environment surrounding them.
So why have they not been properly protected and controlled so that both Malaysians and Tourists can enjoy our unique piece of history? Clearly, only the appropriate government department could answer that!