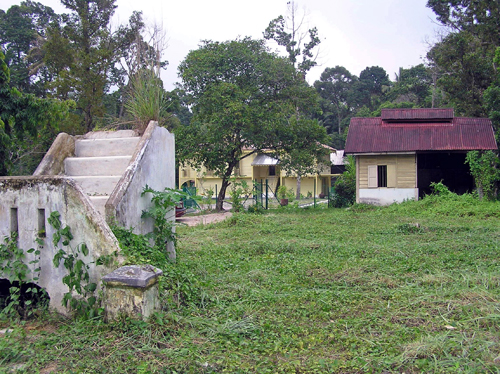 As you can see from the picture there is a set of traditional steps leading to the front of a Kampung House that is not there! Then at the back is a small building, clearly the kitchen of the missing house. So what happened? Well do you see the yellow house behind the trees? That is the house that used to fill the space between steps and kitchen. Today it looks like this.
Yes, the whole house, lock, stock and barrel was taken to pieces, each piece numbered, recorded and where necessary carefully restored and then rebuilt further away from the road. It cost a small fortune to do this, but the owner, an architect and descendant of the original owner thought that at whatever cost his family home was worth saving. What a great example to set to our people who own similar homes that are simply left to rot. They wouldn't need to go this far, but with some TLC (tender, loving care) they could keep their ancestors homes together, couldn't they? Many would make perfect country retreats from our bustling, polluted cities, either for the family or as homestays. Think about it!
Mystery solved!
Some internal pictures of the house will be posted tomorrow.