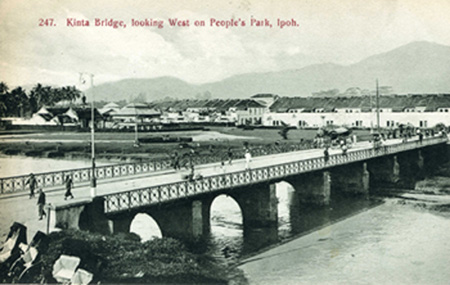 This postcard dates from around 1935 and shows the Hugh Low Bridge as most people still call it today. At one time when Hugh Low, as a British Colonial, was out of fashion it was known as the Kinta Bridge, but the name never really caught on. Anyway, those who cross the bridge regularly will know that the council have now erected a temporary Bailey Bridge alongside it in preparation to rebuild a "better looking" bridge at a cost of, we believe RM50 million of taxpayers money. I do hope that figure is wrong because as far as we know the existing bridge is still sound and has years of life left in it.
Historically, the Hugh Low Bridge was first completed as a wooden bridge in 1890 and opened for wheeled traffic to Gopeng. The wooden bridge was replaced with an iron bridge when Yau Tet Shin's New Town was built in 1907. The iron bridge was then widened in 1930 to take the ever increasing traffic, mostly non motorised.
Now the heritage buff will mourn the loss of this historic bridge, but should we all not be mourning the decision to spend so much in these difficult times. Let us hope that the rumour is wrong and the new bridge will cost a fraction of the figure being bandied about.
But anyway, feast your eyes on this old picture which shows the Bridge and God of Prosperity Temple and the People's Park as it used to be. Memories are made of this!