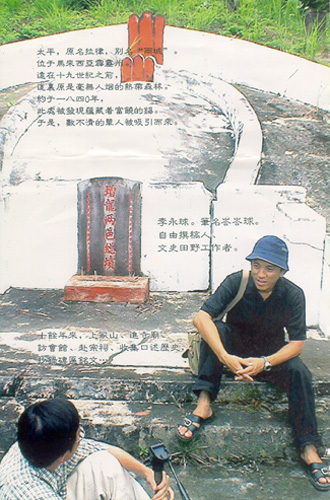 This is Taiping resident  – Lee Eng Kew, better known locally as Ah Kew, freelance writer and field historian who explores temples and grave yards to archive epitaphs, trace lineage and record oral history. For over ten years, this man in the street has carried out extensive research on the illustrious history of Taiping, a town of many firsts in Perak, Malaysia – focusing on the Chinese immigration and contributions to the town and state.
Not content with that, in 2004 he made a video about his hobby in which he was the narrator Lee Eng Kew, assisted by Producer Khoo Eng Yow, Director of Photography, Lim Chun Piao and Lam Yek Wah, Sound, Lee Wei Ching & Sylvia Lim  and Editor, Khoo Eng Yow.
Such was its success it was selected for Jonio International Film Festival, Italy, the IV International Audiovisual Festival, Azerbaijan and the 2nd Golden Apricot Film Festival.
Search Google – "Ah Kew the digger", to find out more.