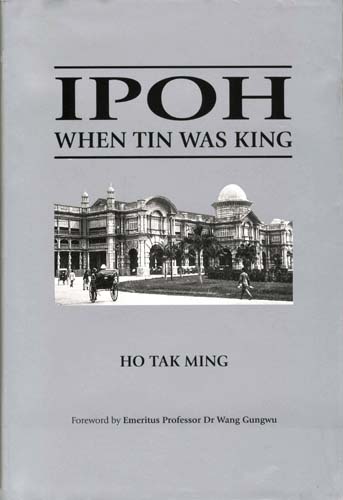 "Tin gave Ipoh more millionaires than any other town; it gave her confidence and vibrancy; it gave her a soul"
As the author puts it, this book tells the story of "Ipoh's Golden Age" which present-day folk "take pride in". Launched yesterday, this book is written by Dr Ho Tak Ming featuring a foreword by Emeritus Professor Dr Wang Gungwu. 'Ipoh When Tin was King' is published by the Perak Academy. It is available at the Perak Academy office and leading bookstores. The official price is RM120, but I believe a discount of RM20 is available if you buy at the office.
I am advised by Dr Ho that overseas customers, or those who cannot obtain the book (ISBN 978-983-42500-2-7)  in their local bookshops, should write to his agent Mr. Steven Yong of Horizon Books email address steven_horizon@wismaytt.com and he will make arrangements to send the book to you.