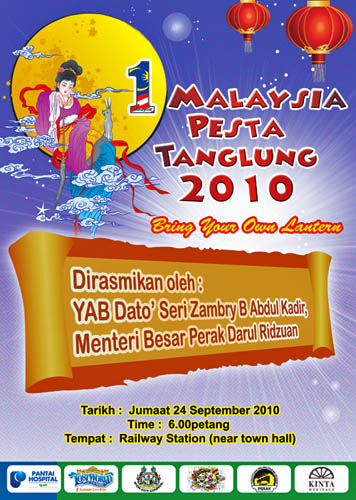 This Friday (24 September 2010), there will be a Heritage Unity Walk – starting out at the Ipoh Railway Station. It's a special event for 700 underprivilaged Perakian children; these children will be treated to games and a food carnival prior to the walk. And since it's the Mid Autumn Festival, we'll be carrying lanterns while we walk the heritage trail. The schedule for this event is as follows:
  6.30pm –  Arrival of participants
                  Registration
  7.00pm –  Arrival of Children & Guests
                  Games for Children & Food Carnival
  7.50pm –  Arrival of YBhg Datuk Bandar Ipoh & EXCO Tourism
  8.00pm –  Arrival of Menteri Besar Perak
  8.05pm –  Welcoming speech by MC
                  Welcoming Dance
                  Speech by Organising Chairman
                  Speech by Menteri Besar
                  Official launch of the celebrations by Guest of Honour
  8.30pm –  Start of Heritage Trail of Unity Walk (with Lanterns)
  9.45pm –  End of walk
                  Supper for VIPs
10.30pm –  End
All are welcome to join this event – bring your own Lantern!