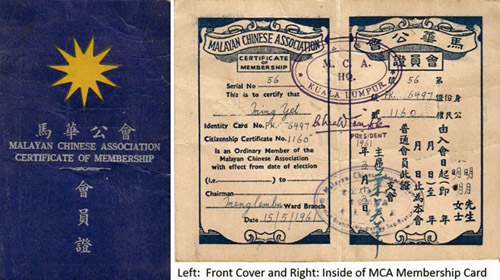 This Malayan Chinese Association Membership Certificate was issued in 1961 and is now in the possession of IpohBornKid. The person who owned this card has passed on and she was a member of the Menglembu (a town adjacent to Ipoh) Branch. This card was issued in Kuala Lumpur at the MCA headquarters. There is much information on the card that is of historical significance. Readers may note the signature of the issuing person and the significance of the eleven sided yellow star. The cover is dark blue in colour.

I have also seen an Ox Head Party membership card issued in Penang which belonged to one of my relatives

In the first 4 years following Merdeka, the author was aware of a substantial number of Menglembu residents who belonged to the MCA. The Chinese politicians well known in Menglembu at that era was Leong Yew Koh, Yap Yin Fah and Chong Hong Chew as MCA people. Of course, the strong man of the People's Progressive Party, DR Seenivasagam and his brother SP Seenivasagam were also on the scene.