November 2012
August 2010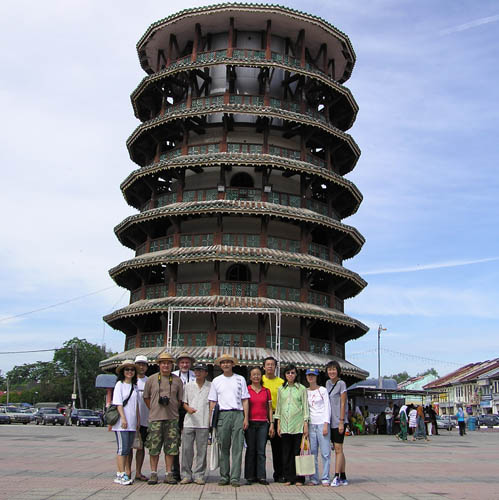 Some time ago, the Perak Heritage Society visited Teluk Intan (formerly known as Telok Anson). Among the highlights of the trip was visiting the famous 'Leaning Tower'. Yes, Perak has her own 'leaning tower' – just like Pisa. We have here some pictures of the inside of the tower…(see below)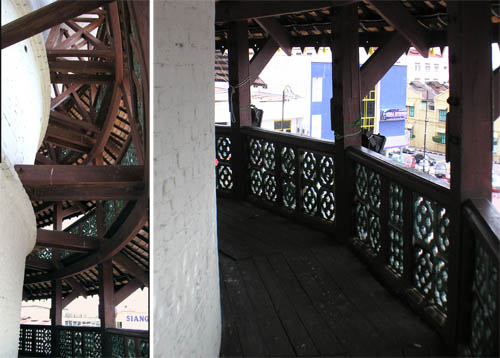 On the left is a picture taken from one of the levels, looking upwards. On the right is the view of the highest level of the tower.
The tower was built in 1885 by Leong Choon Chong (a contractor) and was originally used as a covered water tank – this was to store potable water to the (then) 800 residents in the town. There is also records which state that the water was used for firefighting purposes too. The tower leans towards to west by about 1.8 metres; this was due to the sinking of the foundation during the great floods in 1889 and 1895.
Made of bricks and wood, this 'Pagoda-style' tower stands at 25.5 metres tall. The tower has 3 storeys, and above the 3rd storey is the 16 feet deep water tank.
The photographsd were kindly donated to us by Charlie Choong.
March 2009
The stylish modernity of Ipoh owes it to some landmark buildings by B M Iversen, a Danish architect who came to Malaya in 1928 and started his own practice in Ipoh in 1936. Over a period of 40 years, except during WW2 when he and his small family took refuge in Australia, he has created a significant body of work, what we may see as a treasure of Malaysian architecture. Among his better known projects are Federal House, Denmark House and Loke Yew Building, all in Kuala Lumpur. Once you have learned his trademark features, looking out for his architectural creations will be a rewarding experience.
His work includes Ipoh's cinemas: Majestic, Ruby, Rex, Cathay and Lido.
As for the Geosains Complex (Geological Department Complex) in Jalan Sultan Azlan Shah (Tiger Lane), we lament the new entrance to its museum which destroys the integrity of the architectural facade. We should preserve the best of Iversen in their original form. PHS would like to form a special interest group to study and document them. A meeting will be called. Please spread the news, involve our architects!
Iversen's daughter, Ruth Iversen Baxter Rollitt, born in Batu Gajah, declares herself a second generation Malaysian. Even though she lives in London, she returns regularly to the country of her birth.
If you would like to know more about the Perak Heritage Society or help them with their Iverson project (above) they may be contacted as follows:
Contact details:
Postal/Office: 85C Jalan Sultan Abdul Jalil, 30300 IPOH, Perak.
E-mail: perakheritage36@gmail.com
President, Law Siak Hong: siakhongstudio@yahoo.com