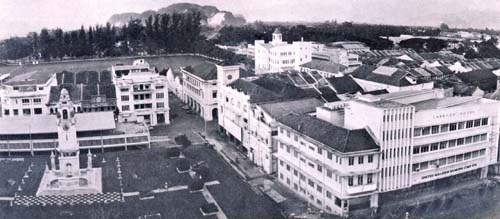 Here's a section of Ipoh Old Town, said to be taken from the top of the state mosque's minaret. In the background (left) is the Ipoh Padang and a row of giant common ru. Further back, are the limestone hills – something Ipoh has always been noted for!
This was what the area used to look like, back in the early 1970s. Of course now, things have changed a bit – for better or worse, depends on personal opinion I suppose. But, from what we've discovered lately……the Birch Clock Tower has been painted pink!
Has anything else been 'altered' dramatically in this area?