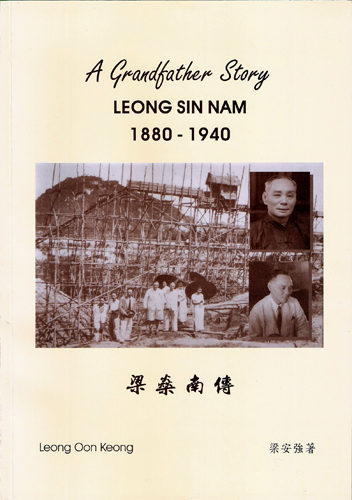 If you are eager to know about early Ipoh and Perak then this is a must-buy for you.
"A Grandfather Story" telling of the life of Leong Sin Nam is written by his grandson Dr Leong Oon Keong. In it you will find not only the life story of one of Ipoh's most famous pioneers and philanthropists, but also stories of the early tin miners and coolies, Perak's support to Dr Sun Yat Sen's revolution in China and the early Chinese migrants and how they helped their motherland during the two Sino-Japanese wars.
Included in the book are exclusive photographs taken from a souvenir book produced by Leong Sin Nam in the 1930s of which only one copy survived the Japanese Occupation.
Dual language, English and Chinese, A4 size and 65 pages in all, perfect bound with the photographs on quality glossy paper, and selling at only RM15, this is the best value heritage book you will ever be offered.
The book may be obtained direct from Dr Leong's clinic at Leong Oon Keong Chest & Medical Clinic Sdn. Bhd. 178 – 180 Jalan Pasir Puteh, 31650 Ipoh, Perak. Tel: 605-2556302 Fax: 605-2432145, or by email to okleong@tm.net.my.
All proceeds will be donated to YNLeong Education Trust.