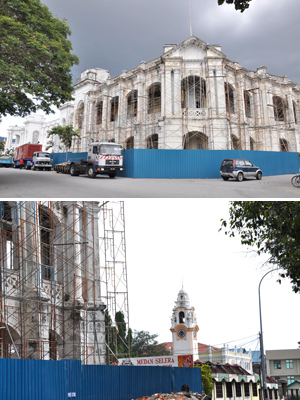 Known by Perakians young and old as The Old Post Office, and despite being connected to the Town Hall the building has been empty since the early 1990s and been derelict for years. As can be seen from the top picture the Town Hall has been repainted and shows signs of being cared for but it has been a different story for the Post Office which has simply been an eyesore. However, judging by all the scaffolding the renovation by the Federal Government is underway. That is good news for Ipoh.
Once renovated it is being suggested that it will become an art gallery featuring Raja Muda's collection of paintings. Whether this is true is not known, but with the amount of money the renovation will cost they must have some plans for it. 
The Ipoh Town Hall building is a historic structure consisting of interesting Moorish Architecture and designs. It was completed in 1916 with the east end used as the Post and Telegraphs Office from 1928. This was the second building to be used for this role in Ipoh. Subsequently when new premises were built for the Post Office, the building was used by other government offices including the Tourism Department and as the Bumiputra Administrative Centre.
The lower picture shows a view from the opposite direction and includes the J W W Birch Memorial Clock Tower partly masked by the Medan Selera (Food Court). The latter is in some serious need of renovation or even a total rebuild as it will negate much of the beauty of the renovated Post office cum Art gallery. With the food court sorted out, the area tidied up and all the rubbish removed, with the advantage of the historic clock tower, this could become a real tourist area.
Unveiled in 1909, the Birch Memorial, can be described as a square decorated tower with a portrait bust and four panels illustrative of the growth of civilisation. The tower was erected on the table-land of Ipoh Old Town at the cost of about $25,000. A dedication to J W W Birch, the first British Resident of Perak, who was assassinated at Pasir Salak in 1875, could be found beneath the site of a bronze bust of Birch in the north-facing niche, but the bust has since disappeared.