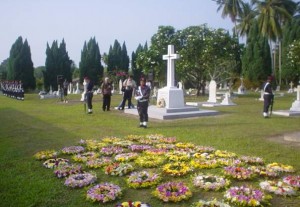 On the second Saturday in June, every year a truly multi-racial, multi ethnic and multi- religious group gather at Changkat Batu Gajah to join in remembering all those that were killed in the Malayan Emergency from 1948 to 1960. This is a unique occasion attended by people of all ages from as far afield as Australia, Fiji, India, New Zealand and UK, as well as those closer to home from Penang, Kuala Lumpur and beyond.
The simple ceremony begins at 7.30 am on 13 June 2009 in the Holy Trinity Church, on the site where there has been a church since 1891, but the main event is the laying of wreaths at the central point of the old Christian cemetery, known world-wide as "God's Little Acre", where 116 Planters, Police Officers, Miners and Civilians, killed in the Emergency are buried. The ceremony however remembers all those killed by the Communists whatever race, creed or religion and wherever they may lay.
Here a ceremonial guard is mounted by the Royal Malaysian Police, while their buglers sound "The Last Post. After a short set of speeches, Ghurka Pipers from Brunei play "The Lament" while long-retired and serving Police Officers and Military Men from home and overseas, together with Planters, Miners and the descendants of those killed in the conflict, lay wreaths to pay their respect to the fallen heroes. The wreath laying is usually led by the representative of the Chief Police Officer, Perak, Chairman of the Malaysian Palm Oil Association, High Commissioners and other dignitaries.
Behind this simple and meaningful ceremony is the hard-working Committee of the Malaysian Palm Oil Association (Perak) who stage the ceremony every year. Should you need more information, they can be contacted at 05 254 9582.
We hope to see you there!