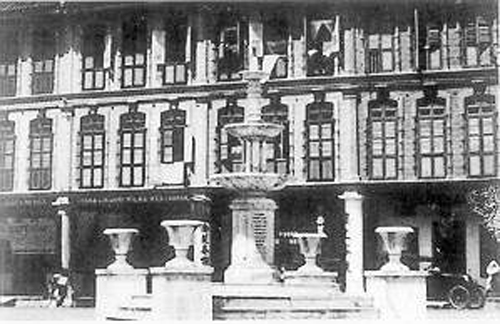 At one time Ipoh sported two Birch Memorials, the clock tower in memory of J W W Birch and this beautiful marble fountain in Belfield Street to honour his son E W Birch. These memorials always seem to cause confusion as today only the clock tower remains and more than one tourism site has misled its readers in the past by talking about the "Birch Fountain", over a picture of the clock tower.
So this post is intended to set the matter straight. The clock tower was erected in 1909 in memory of J W W Birch, the first British Resident of Perak under the Pangkor Treaty of 1874. He was assassinated by the Malays in 1875 and the moving force for the erection of the towere was his son E W Birch who was the 8th British Resident from 1904 to 1910. It is still with us today although as an earlier post shows the area in which it stands is not always treated well.
The photograph above shows the Birch Fountain. This all-marble fountain at the southern end of Belfield Street, was erected by the Ipoh Chinese business community, in honour of E W Birch (later, Sir Ernest Woodford Birch KCMG CMG) who (unlike his father) was a popular administrator that worked closely with the local people, particularly Yau Tet Shin, the original developer of Ipoh New Town.
Sadly, in the name of development, it was demolished by the local council and was replaced by a new fountain of a much lesser qualty and style. That is Ipoh's loss.