This blog is published at the request of Kinta Heritage Group
PLEASE NOTE THAT ALL ENQUIRIES SHOULD BE PASSED TO
MR RAJA, +6012 524 2357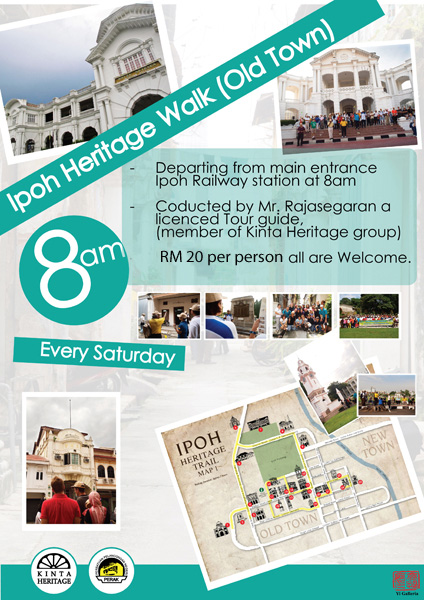 Ipoh Heritage Walk (Old Town)
Come and experience the grandeur of this beautiful city and learn why the town that tin built became known as the City of Millionaires.
Departing every Saturday from the main entrance of Ipoh Railway station at 8:00 AM.
Conducted by Mr. Rajasegaran, a licensed Tour guide and member of Kinta Heritage Group.
Fee is RM 20 per person – All are welcome!
JEJAK WARISAN IPOH (PEKAN LAMA)
MARI MENGALAMI KECANTIKAN BANDAR IPOH DAN SAMBIL BELAJAR BAGAIMANA IPOH MENJADI BANDAR YANG DIKENALI RAMAI SEBAGAI PEKAN JUTAWAN HASIL DARI PERKEMBANGAN BIJIH TIMAH.
PERJALANAN AKAN BERMULA DARI PINTU UTAMA STESYEN KERETA API
 SETIAP HARI SABTU PADA PUKUL 8:00 PAGI.
ROMBONGAN ADALAH DIBIMBINGI  OLEH ENCIK RAJASEGARAN, PEMANDU PELANCONG BERLESEN DAN JUGA AHLI DARI KINTA HERITAGE  GROUP
PENYERTAAN RM 20 DAN SEMUA DIJEMPUT.
怡保旧街场文化遗迹之行
让我们共同欣赏怡保独有的山城之美,同时了解这座原是貌不起眼的小镇如何通过锡米发展蜕变成富豪之城。
此趟文化遗迹之行将由近打文化遗迹队会员兼资深导游拉惹锡加兰先生 (Rajasegaran)带领我们深入体会。
就让我们约定您每逢星期六早上八时,从怡保火车站门口一起踏上不一样的文化遗迹之行。
欢迎各方踊跃参与。
PLEASE NOTE THAT ALL ENQUIRIES SHOULD BE PASSED TO
MR RAJA, +6012 524 2357