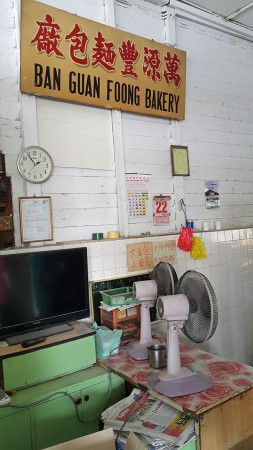 Our donor (Lee Seong Yan) shared this little story with us:
"Remember the '50s when you can get a bun with scraped coconut in brown sugar as fillings costing only 5 cents to 10 cents? For those interested in buns with scraped coconut fillings, there is a shop in Pasir Pinji, Ipoh selling them for 80 sen each. Besides those with coconut fillings, they also sell buns without fillings and also those with kaya (egg jam). They also have the regular size loaf. If you think 80 sen is expensive, try going to the cake shops in the shopping complex. Anyway, this shop is only open from Mon to Fr at 6.00 pm and on Sunday at 2.00 pm. It is closed on Sat. I went once at 2.30 pm on Sun. and found that the buns with coconut filling was sold out. The shop is Ban Guan Foong Bakery. The signboard in inside the shop and you will not be able to locate it until you are in the shop. The address is 50, Jalan Sultan, Pasir Pinji, Ipoh (near the market). The difference between the buns sold and those sold in the local bakeries and cake shop is that you buy it fresh from the oven and they are still hot and smells good. The oven is at the back of the shop and it does not look like it is run by electricity. The queue is long and you find people buying as many as 25-50 buns though you may buy one. From the signboard and the premises (single storey semi concrete and wooden walls and zinc roof) it looks as if this bakery (family run) has been around for over 50 Years."
So folks, have you heard of Ban Guan Foong Bakery?