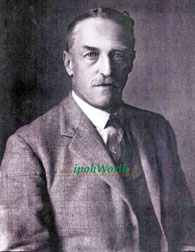 When he arrived in Malaya, this gentleman (pictured above) became Chief Architect to the Federated Malay States (FMS), but would later return to the United Kingdom to begin his military career. It is often said that he was the first British Architect to achieve the honour of the rank of Brigadier General.
The following are some of his notable works:
The White House of Klang (Now Galeri Diraja Sultan Abdul Aziz, under the auspices of the Sultan of Selangor)
State Secretariat Building, Seremban (Now State Library)
The Old City Hall, Kuala Lumpur (Now Panggung Bandaraya)
Ipoh Town Hall Building, Perak
The Railway Station, Ipoh, Perak
I think the last two mentions would have clued you in on WHO our featured celebrity is. Yes, folks…he's none other than Arthur Benison Hubback.