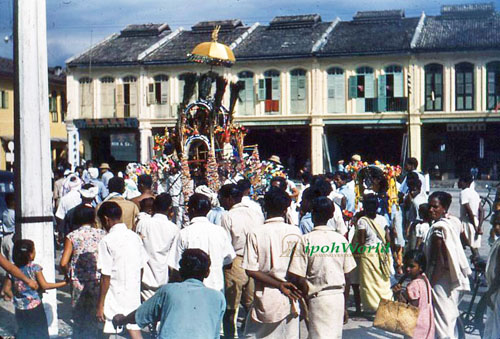 The word Thaipusam is a combination of the name of the month, Thai, and the name of a star, Pusam. This particular star is at its highest point during the festival. The festival commemorates the occasion when Parvati gave Murugan (aka Kartikeya) a Vel "spear" so he could vanquish the evil demon Soorapadman and his brothers. It is also commonly believed that Thaipusam marks Murugan's birthday; though some other sources suggest that Vaikhasi Vishakam, which falls in the Vaikhasi month (May/June), is Murugan's birthday.

This festival was (according to one tradition) said to have been supposedly created during one of the battles between the Asuras (or to be more specific Soorapadman) and the Devas. At one point, the latter were defeated several times by the former. The Devas were unable to resist the onslaught of the Asura forces. In despair, they approached Shiva and entreated to give them an able leader under whose heroic leadership they might obtain victory over the Asuras. They surrendered themselves completely and prayed to Shiva. Shiva granted their request by creating the mighty warrior, Skanda, out of his own power or Achintya Shakti. He at once assumed leadership of the celestial forces, inspired them and defeated the Asura forces and to recognise that day the people created the festival, Thaipusam.

According to the Hindu Purana Skanda Puranam, the legend of Murugan, and Thirupugal which are divine verses on Murugan, adhere to Shaivam principles. Murugan is the embodiment of Shiva's light and wisdom and devotees pray to him to overcome the obstacles they face, as He is the divine vanquisher of evil. The motive of Thaipusam festival is to pray to God to receive his grace so that bad traits are destroyed. (source: Wikipedia)
We thank Ann Kesselring Hamon for the above picture.