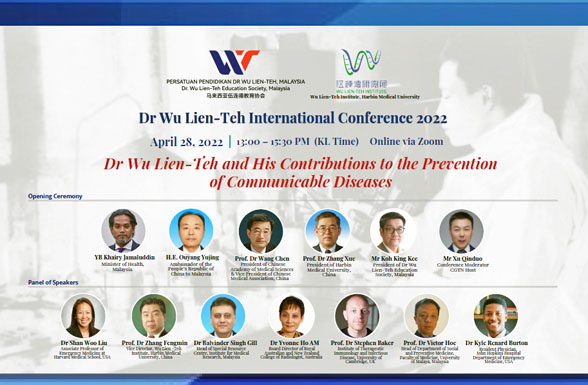 Dr Wu Lien-Teh Education Society Malaysia and Wu Lien-Teh Institute, Harbin Medical University, China would like to invite you to a Zoom Webinar.

Date: Apr 28, 2022
Time:01:00 PM – 03:00 PM Kuala Lumpur
Tittle: Dr Wu Lien-Teh International Conference 2022

Register in advance for this webinar:
https://us02web.zoom.us/webinar/register/WN_bMrsXp6vTn-dVUqd9lY8lQ

After registering, you will receive a confirmation email containing information about joining the webinar.

Dr Wu Lien-Teh International Conference 2022, which is held to commemorate the 111th Anniversary of The International Plague Conference, will be officiated by YB En Khairy Jamaluddin, Minister of Health, Malaysia and chaired by Prof. Dr Wang Chen, President of Chinese Academy of Medical Sciences, China. The objectives of the Conference are to promote the legacies of Dr Wu Lien-Teh and to share knowledge on how the battle against the COVID-19 pandemic has drawn lessons and experiences from measures adopted by Dr Wu Lien-Teh in combating the 1910 Manchurian Plague.