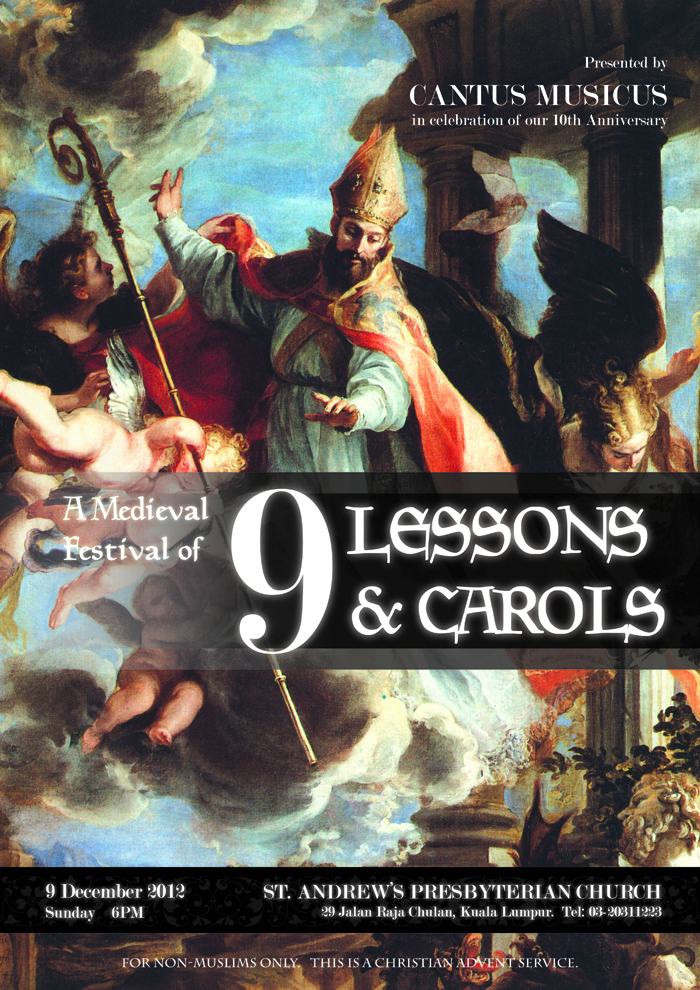 A (Medieval) Festival of Nine Lessons and Carols
 International choir CANTUS MUSICUS and Jusz Kidz Children's Choir will present an Advent service of THE FESTIVAL OF NINE LESSONS & CAROLS in the sanctuary of St Andrew's Presbyterian Church, Kuala Lumpur on 9 December 2012 (Sunday), at 6.00pm.
This is a traditional Christian choral festival in which Christmas carols and songs from around the world would be sung in their original languages, interspersed with readings by diplomats and leading members of KL's international community.  This is also the 10th year that the Festival of Nine Lessons and Carols has been sung by CANTUS MUSICUS in St. Andrew's.
In celebration of this milestone, some of the carols that will be sung this year will be medieval in character to reflect the humble origins of the choir when it first started as a small group, singing medieval music and madrigals.
Mulled wine and mince pies will be served after the service, using recipes from the medieval age, made by various choir members.
Cantus Musicus is an international choir based in KL founded in 2003. The original members of the choir were drawn from an experimental choir formed to complement the Malaysian Philharmonic Orchestra and known unofficially as the Dewan Filharmonik Petronas Chorale. Unfortunately, the choir project was subsequently abandoned. buts the project choir's rehearsal conductor, took the best of the singers, 17 in all, and formed Cantus Musicus. Within 2 days, the choir gave its first public concert, and the rest is history.
http://en.wikipedia.org/wiki/Cantus_Musicus
I hope you would be able to attend this unique carol service in which all the singers would be dressed in European medieval costumes. If you are unable to attend, I would appreciate it if you could please inform your friends about the service and forward the poster and write-up to them. Thank you.
The choir would be accompanied by Lisa Ho on the pipe organ and piano, Lionel Morbelli on the violin, and Christoph Zilian on the oboe.