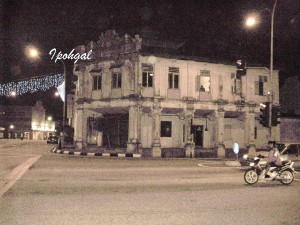 Does this building looked familiar to you? It was located right in the middle of new town, along busy Hugh Low Street. It faced the junction of Cowan Street and Jalan Yang Kalsom. Just opposite is the new town police station. Adjacent is Hume Street.
Yes, I knew it looked abandoned and in a dilapidated condition. It stuck out like a sore thumb but it held many childhood memories for me. It is my childhood home. I have spent 24 years living in it.
Standing from the road and looking up, you will see two stone lions playing with a globe perched on the roof. I always used to wonder who the designer of this structure is and what it represented. Anyone knows of a similar structure elsewhere in Ipoh?
In its heyday, this building sported whitewash paint with green colored wooden windows and doors. On the upper floor, there are 6 rooms, a kitchen and a bathroom. This is where my paternal grandma, aunt, uncle, cousins, elder siblings and some tenants lived.
According to my parents, among the tenants is a beautiful cabaret girl working at the nearby Jubilee Park along Cowan Street. She is a mixed Chinese and Thai girl called Ah Hung. Other tenants would stand near the window and watched her bade him good night. Later, her brother got a tin mine to operate and she herself migrated to England and did not come back anymore. I am not sure if she has any kin around.
On the ground floor is a front hall, a room, a kitchen, a bathroom and two toilets. This is where Mom, Dad and I stayed.
In the early days, we used the bucket system. Night soil collectors in an orange coloured truck used to come every other evening to collect the waste using black rubber buckets. We always covered our noses whenever they come! Mom even lighted up a cheroot to fight the lingering stench. Only in the late 70s it was converted to the flush system.
The staircase, room partitions and upper floorings are made from very solid timber. It is a spacious and airy place. Such a joy to live in except for the toilets!
As children, we would come out and play in the evenings. We liked to play hide and seek among the pillars outside. We also played hopscotch and tops along the corridors. Sometimes we used to cycle along the back lane behind the shop with kites in our hands. After a shower of rain, we would throw paper boats into the drain outside the shop or catch small fish. Once, I fell into the drain together with a bicycle when a boy next door pushed me as we fought over some marbles. I lost my two front teeth!
An unforgettable incident happened on Chinese New Year's eve in 1972. Grandma woke up early that morning to find an Indian man who worked as a shop assistant next door, hanging from a pillar in front of our shop. He was already dead for a few hours. She screamed and fainted at the sight.
Only a few days earlier, his toddler son fell into the same drain in a very heavy downpour. Before anyone could do anything, he was swept by the strong current into the connecting monsoon drain that flows into Sungai Kinta. His body was never found.
Back in the 70s, Dad let out the corridor outside to an Indian barber called Subramaniam. Sometimes, his son Morgan would help out when business is good. And their business is good most of the time.
Every year, the Nine Emperor Gods procession will pass by the shop on its way back to the Tow Boo Keong Temple at Jalan Tokong. We have a good view from our windows as people crowded the street below jostling for a better view. Under the hot blazing sun they looked up at us enviously!
My family stayed here for a total of 55 years. It was only like yesterday but actually so long ago. I hate to see it being demolish someday…..