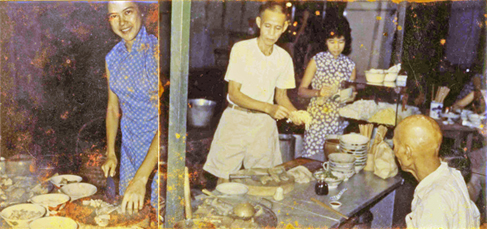 The photographs, taken by a Japanese tourist, show Ipoh's famous Beef Noodle Stall in operation in Theatre Street in 1968 where it served the people of Ipoh for more than 50 years, until they were forced by legislation to move to a central hawkers area, known locally as Rainbow City. They have been at this second site for more than 20 years. Consequently, the stall has been in operation by the same family in Ipoh for more than 70 years.
The business was founded by Lee Cheong who was born in Phunyu, Guandong in 1902 and first came to Malaya in 1916 to help his father, already in Malaya, to sell rice on their stall in Kuala Lumpur. After some time he returned to China, but times were very tough there and so in 1922 he returned to Malaya and found employment as a supervisor (kepala) in the tin mine of Cheong Yook Chong near Kuala Lumpur. However by the mid 1930s the world depression had taken its toll on tin mining and many unemployed coolies had to return to China to take up hawking or begging in order to survive.
Lee Cheong decided that a move to Ipoh and the new profession of a beef noodle hawker would be the best thing for him, which as it turned out was absolutely correct as he successfully created a long term family business and had eight children, all born in Ipoh.
The photograph on the left shows eldest daughter Yea Sin busily preparing the succulent beef that is the hallmark of their success, together with the home produced noodles and chili sauce made fresh daily. The second photograph shows father Lee Cheong, the founder, measuring out a good handful of noodles and in the background younger daughter, Li Lin, polishing a traditional Cockerel bowl (like those on the counter and still in use today) and the showcase full of freshly made noodles. Both daughters continue to work at their stall, now in 2009, on a regular basis.
There are more photographs and information about this family on our database archive.
As there are some additional, recent comments about this blog I decided to upload another photo.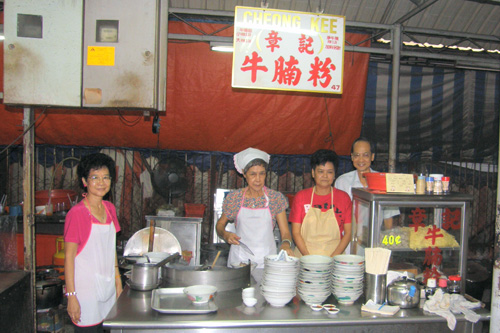 Here we have the stall in 2007 with the normal team that provide us with their traditional beef noodles. Note the cockerel bowls on the counter, the same ones as used in Theatre Street more than 40 years ago.