Recently the subject of Perak's vehicle registrations cropped up and as we have a great photo that demonstrates the situation perfectly I thought it was worth putting up to dispell the entirely untrue tale that Perak has the 'A' because we had the first cars in Malaya. Absolute rubbish!.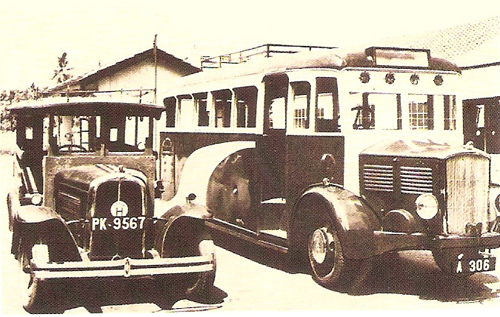 Here we have two vehicles side by side in Ipoh in 1945. On the left is PK9567, a small bus or possibly a taxi that survived the Japanese occupation. On the right is definitely a bus newly registered as A306. But why the difference when both vehicles were registered in Perak?
Well as I explained the other day The British Military Administration restarted the system in 1945 with 'A' for Perak, 'B' for Selangor etc to prevent confusion between Singapore and Selangor, Perak and Penang etc. Previously Perak was PK and Penang PG.
The first registration, 'A 1′, went to C H LaBrooy, the Ipoh architect. I wonder how much that cost him? Does anyone know who had 'PK 1'?