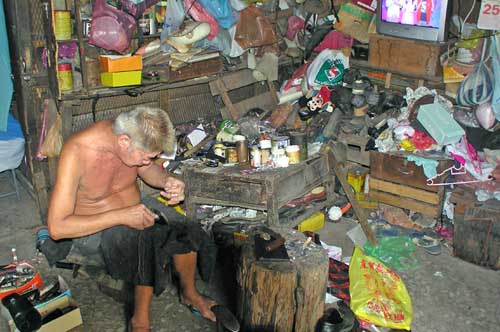 Traditional trades are fast disappearing and although the cobbler is perhaps not in the same heritage league as the tinsmith, the silversmith, the blacksmith, the chick blind maker, the sign carver and the like, he has been an important part of local life ever since we wore shoes, which for many in the Kinta Valley was not actually more than 70 or so years ago.
Nonetheless this old gentleman from Teluk Intan has obviously been in this one shop for a lifetime and although it has nothing to do with Christmas, the picture gives me that same feeling as some of the old drawings from the classic Charles Dickens books like "A Christmas Carol" and the ghosts of years past. For surely among all the clutter in the shop there must be some ghosts of the past in the form of discarded shoes, forgotten bags and more.
So with this picture in mind, we at ipohworld.org would like to wish you all the happiest of holidays over the Christmas season and all the very best for 2010. We shall be taking a short break from writing from today, but will be back with you next week. However, don't stop writing to us for we shall still be reading your comments every day.