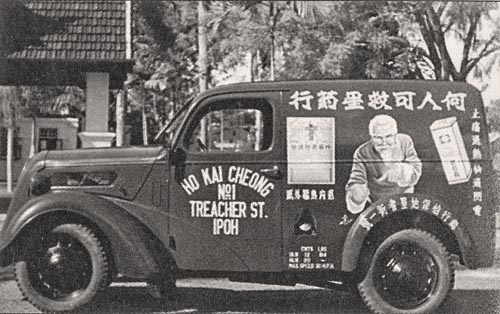 In the 1950s, a newly married herbalist rented a room in a shophouse – No.1, Treacher Street, Ipoh – where he sold his 'cooling tea' or leong char as the locals knew it.
This man was none other than Ho Kai Cheong; and till today his tea is still popular – "Ho Yan Hor", as it is called! The picture above shows an advertisement of "Ho Yan Hor"; the van (owned by Ho Kai Cheong himself) was fixed with loud speakers, which promoted the 'cooling tea'.
Anyone remember the van or the advertisement? I'm sure some of you out there have tried this 'cooling tea'….
Incidentally, Ho Kai Cheong's son David Ho went on to major in Pharmacy – this same David Ho founded Hovid Berhad, which now manufactures and markets more than 300 different types of pharmaceutical products.