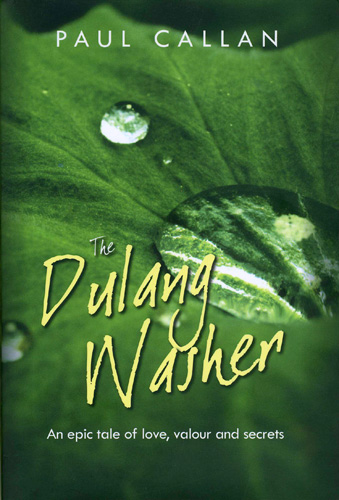 Written by Paul Callan, this book can be purchased at MPH at RM 39.90. Set in 1890 Malaya, this book recalls some interesting encounters between the Dulang Washers and Miners, as well as the British folk, in the Kinta Valley. The summary (on the back cover) is as follows:
Malaya, 1890 … in the tin-mining camps of Perak's Kinta Valley, only the strongest and bravest survive … and the strongest and bravest of them all is Aisha, the beautiful solitary Malay dulang washer who labours to support two families.
Fook Sin, the mine's treacherous, thieving proprietor, sees Aisha as his ultimate prize: the most desirable object he can add to his secret hoard of treasures.
Hun Yee, an ambitious young Hakka Chinese miner, shakes off the opium addiction that has insulated him against the harshness of his daily struggle and strives to win Aisha's approval by starting a mine of his own.
But for Donald Redfern, overseer and the only European in the camp, Aisha comes to represent something even more important. The human contact she offers in the language lessons she gives him, and the small gestures of compassion she shows to the isolated, homesick man, fuel his dangerous obsession.
MPH asked us to review this book and this is how I find it.
"As a keen amateur researcher of Kinta Valley's history, I am drawn to this book by its title as in the history of the valley and its commercial mining period, there were always dulang washers wherever there was tin.
The story as outlined by the above synopsis is a without doubt a story of love against a backdrop of harsh living, gambling, prostitution, opium smoking and more. Indeed all the evils that truly faced the immigrant Chinese when they came South to Nanyang to make their fortune and then return home. But central to it all is Aisha a Malay girl from a fatherless 'padi' family who somehow manages to stay above the chaos around her. Indeed, more than stay above, despite her diminutive size she somehow has the ability to control the rough and rowdy miners when the need arises.
Isolated among this seething mob of Chinese is the solitary white man with a wife and children far away in another land. For him this is a test of moral strength and the will to do what is right. But that's enough about the story – what sort of book is this in reality?
Well first of all I must say that Paul Callan has definitely captured the feeling of the times. His descriptions are photographic and the reader has no difficulty in picturing the scene – and that is the sort of writing that I like. If I have any criticism it is that I feel that he has put too much into this first book and that it could have been a little shorter and focused more on the main plot. This might have turned it into that sort of book you cannot put down until you reach the end. Maybe for those addicted to love stories it might be still be that sort of book, but I don't suffer from that addiction.
Going back to where I started, the history of the Kinta Valley, for an expatriate who has not spent a great deal of his life in Malaysia, Paul has done well with his description of the period. However, as a purist when it comes to recording history I feel that he may have overdone some aspects to add interest and excitement to his story. That of course is perfectly acceptable for a novelist, but not a historian. Having said that, there is no doubt in my mind that any publication that introduces history in an "easy to read" fashion is important, as too much of our history is being lost.
Now, would I buy the book? I think I probably would, ostensibly as a gift for my wife, but also for myself to savour some of Paul's descriptions of life in the 1890's. After all, this is an interesting, well written, nicely produced book that is value for money, particularly if you like love stories with a twist. What more can you ask?"
If you read this book I shall be interested to hear your comments. Review by IKA.