These two photographs were taken on the 60th birthday of Chow Yoon Soo at Kam Loong Restaurant, Ipoh in 1962. Chow Yoon Soo is featured on our database at http://www.ipohworld.org/search8/result.asp?strid=4334. The photographs are part of a set of eight we have recently received from her granddaughter, Sybil, togetherl with the details below: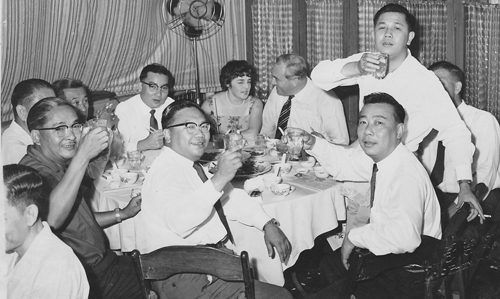 Both photos were taken on the patio of the restaurant. They had put up the piece of cloth and a screen to hide their equipment.
Kam Loong was famous for its Sharksfin Soup and Suckling Pig and Su-ming mentioned this in her "Ipoh, My Home Town" story (page 268). However, the irony of the place was that the older ladies were seated upstairs (imagine the older legs struggling up step by step) while the drinkers (in their prime of life) sat downstairs. Kam Loong certainly had foresight, taking the risk of having the older ladies getting into difficulties on the stairs, against the likelihood of the drunks falling downstairs after dinner.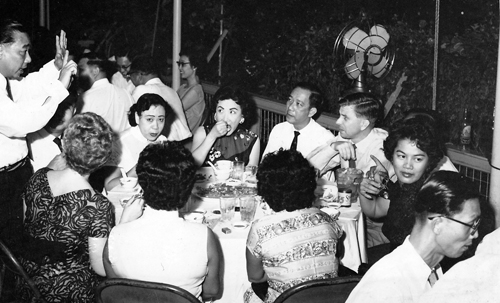 Now the question is, do you recognise any of these partygoers from 1962. After all, it is only 50 years ago!
Alternatively, do you have any tales of dining at Kam Loong?