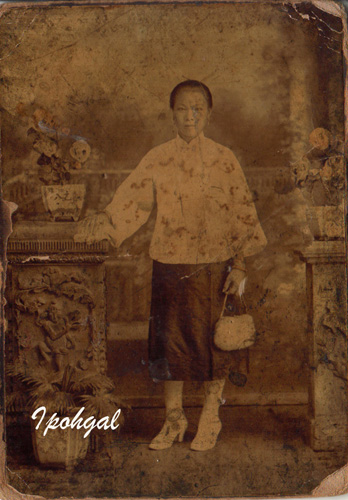 Chan Tai 陈黛, the charming girl in this photo, used to live in a small village in the district of Shun Tuck 顺德 in the province of Guangdong, China in the 1920s. This district was renowned for producing silk. Her family owned a small silk worm farm. She helped them to cultivate silk worms and weave the silk thread into cloth.
One day, a professional matchmaker called "mui yan poh 红线人" approached the family with a marriage proposal. A guy in Ipoh, Perak, Malaya, needed a wife and was looking for a girl from a decent family.
In those days, many families in small villages in China dreamed of having their daughters marrying off to faraway lands and lead a better life. At that time, Perak was famous for tin and it was very fashionable to come to this land of plenty.
The prospective groom was a guy called Chow Yee Phooi 周毅錇, from the district of Phun Yee番禺. He has already migrated to Malaya together with his brothers many years before. He was the youngest among the brothers and the only one still single and eligible.
They opened a shop selling fruits in Ipoh. This shop, called Chow Hang Kee 周亨记 , distributed fruits to other fruit sellers in the market nearby. The shop was located between Yik Foong Complex and Lam Looking Bazaar, facing the back portion of the present Pasar Besar Ipoh.
Life was good to him. Flamboyant and carefree, he always frequented gambling dens in his spare time. He was particularly fond of mahjong and "pai kao", a game of black tiles.
In the past, a girl has no say in her marriage. Everything was decided by her parents.  The Chinese called it "Mang Fun Nga Kar 盲婚哑嫁" meaning a "blind and mute marriage". She has neither meet the groom nor can she voice out her opinion about the match. As a daughter, she just has to follow everything planned for her.
Her parents gave their approval at once and a simple wedding ceremony was conducted in her village, minus the groom. In his place, a cockerel was used in the ceremony although I don't know why they chose this animal to represent the groom!
After the wedding ceremony, she left her village and boarded a steamer, stopping at Singapore first and then later, Malaya. Next, it was to Ipoh.
Upon her arrival, this photo was taken. The purpose of taking this photo was to send it back to her family in China to show them that she has arrived safely to her new home. There were only two such photos. One she sent back to her family and the other appeared in this blog, which she kept as a keepsake. Later, it was handed down to my mom who was her eldest child. Mom gave this photo to me. Today, this is the most prized item in my collection because it is the oldest and the only photo of my maternal grandmother.
From this photo taken circa 1920s, you can see that she was a very stylish lady, an epitome of an Oriental beauty of her time. She sewn the white samfoo and black knee length skirt herself, using the silk cloth which she had weaved. It was part of her wedding wardrobe, looking prim and proper to face her new husband and his family. Her hair was combed neatly into a bun. She was also wearing a pair of white leather high heeled shoes and carrying a white fur handbag. Such a graceful blend of East and West.
The family stayed in Kampung Kuchai, Ipoh. Needle work was her main forte. She sew baby's clothes and accessories like gloves, booties, caps and carriers for some extra pocket money although her husband's income was sufficient to support her. She was a very quiet and gentle person, yet fiercely independent, earning her own keeps.
But alas, her life was tragic! In 1930, she gave birth to my mom. Soon, another daughter followed and the next was also another girl! Three girls in a row and soon her mother –in law began to show her displeasure. No son was produced and that was a bane for the family. Under mental pressure, she conceived again although her health has deteriorated. But by now neither her husband nor her mother-in law show any concern. In their mind, it will be yet another girl. Girls were so unwelcomed in a Chinese family at that time. They preferred boys to carry on their surname and attend to the family altar. This was a typical Chinese mindset at that time. Luckily, it was not like this anymore.
Her parents came from China to Ipoh to visit their daughter. After a brief stay, they went back to China, bringing my mom together with them to lessen their daughter's burden of looking after the children in her fragile condition. It was 1938 and my mom was only 8years old then. She spent the next four years in Shun Tuck together with her grandparents, helping them to feed the silk worms with mulberry leaves.
Not long after her parents left Ipoh to go back to China, one day, my maternal grandmother experienced a terrible stomach pain at home. She was already in her seventh month of pregnancy. She sent her two young daughters out to search for their father and asked him to come home at once. That day, he was not at the shop. Instead, he was at the mahjong parlor near home. He was an addicted mahjong player and was too engrossed in his game to bother about his pregnant wife at home.
"Go home and don't bother me! Ask her to apply some medicated oil and get a rest!" he barked at his young daughters as they pestered him to go home quickly to attend to their mother.  The mother –in law was nowhere to be found. The two young girls were at a lost as to what to do seeing their pregnant mother in pain. Finally they called their neighbor for help.
It was late at night when my maternal grandfather finally came home. His face was as dark as "Kuan Kung 关公"from losing money at the mahjong parlor. A midwife had just left the house. On the bed were a stillborn baby boy and his dead wife, paled and cold from losing too much blood. His two young daughters were sobbing at a corner, traumatized at seeing their dead mother and baby brother. My maternal grandmother was about 28 then. What a young age to die and in such a tragic way. 
To a Chinaman at that time, losing a wife is akin to losing a shirt. I really don't know how he must have felt at that time but according to my aunts, he looked very cool and calm. After burying his dead wife and stillborn baby, he approached a matchmaker to look for another wife and in a few months time, a new one was found and life was back to normal again, at least for him.  My poor mom and her little sisters found themselves with a stepmom but luckily she was not exactly the type from hell. But nevertheless, life was not the same anymore without your own mother.
According to my mom, one night, while she was sleeping in a dimly lit room in her grandparents home in Shun Tuck, she was awoke by an apparition of a lady beside her bed. She opened her eyes and saw that it was her mom. The apparition was sobbing softly and was trying to pull a blanket to cover her young daughter. It was gone in a blink of an eye. At that time, my mom has not learnt about her mom's death yet because she was far away in China. A month later, a letter from her father in Ipoh reached her, informing her of her mom's death.
Many years later, my maternal grandfather was blinded by firecrackers being carelessly thrown out from the window of a shop near Foh San Restaurant at Osborne Street. He was just coming out from a mahjong parlor at that time. That incident stopped him from playing mahjong ever again.
In 1980, on his death bed, while breathing his very last, in a very weak voice, he asked his daughters for their forgiveness for neglecting his first wife and depriving them of their mother's love. His last words were, "I deeply regretted my folly. I still loved her very much. She was a good wife. She is beside me now, waiting for me. Please forgive me and goodbye. I am going to be with her again."
My mom and her sisters have finally forgiven their father and came to terms with their profound loss.