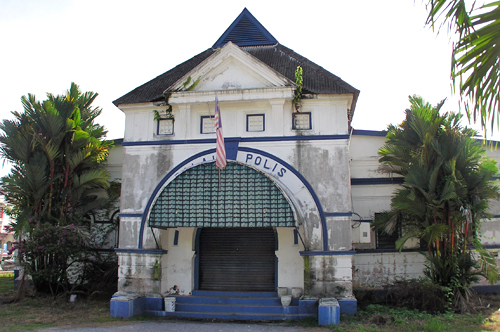 This photo was taken in 2006 on a visit Teluk Intan originally called Teluk Mak Intan, after a well-to-do Mandailing woman who is believed to have been in trading across the Straits of Malacca, although some will say she was actually a pirate. It shows the old Balai Polis or Police Station which being unused was in a state of serious disrepair. What we don't know is whether it is still there as we have not been that way lately. Please let us know.
Teluk Intan was of course renamed by the British under the administration of the third British Resident Hugh Low (1877 to 1889), as Teluk Anson, in honour of General Anson who drew the first plans of the town and secondly, as he said, Telok Ma' Hitam (as the British called Teluk Mak Intan ) was too long! It was the Sultan of Perak in 1982 that changed the name back, but dropped the 'Mak'.
Hugh Low was also responsible for the Police Staion when he proposed "The Customs House, the Court House, landing jetty and Chief Police Station should be put there at once.  I will send the plan and write on the subject to Singapore as soon as I can…". Consequently the area around the Polce Station would have been the original town, rather than where most of it is today.
What a shame no one has found a use for this old building, or have they?