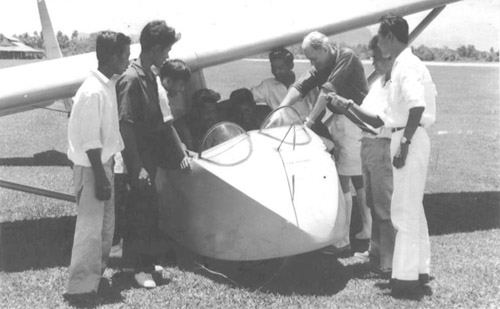 This was sent to us by Robin Tan. According to Robin, Mr Radcliffe (in white shorts) used to take him sailing when they were not gliding.
Yes! Gliding – as the Kinta Valley was a suitable place, since it was blessed with many hills. Even the climate gave the much needed thermal boost for gliding. Plus, the Ipoh Airport wasn't so busy then. This was back in the late 50s and early 60s.
Sadly gliding activities in Ipoh slowly died off as the years went by. For those (like me) who have never had the experience, Robin describes it as "…peaceful, serene and quiet way of flying without vibration and noise…" and that "…the only sound you hear is the whistleling of the wind over the wings..".
Ahh, what bliss! 🙂