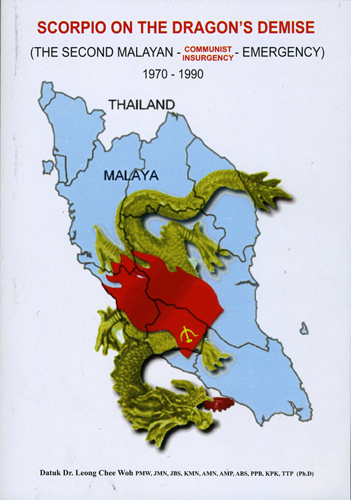 This, the fifth book in the Scorpio Series covers the period of the second Malaysian "Emergency" from 1970 to 1990 and Special Branch operations that not many people are aware of. By 1970,  the Communist Party of Malaya had re-grouped in southern Thailand and trained about 2,400 reserve troops. They were ready to make a return to Malaysia.
But the Government was ready for them, having received information about their plans and the Special Branch put into place eight schemes to counter the communist terrorists, one of which was Operasi Bamboo to curb their influence among the orang asli.
The author of this, and the earlier series of four books is the former Special Branch deputy director of operations Datuk Dr Leong Chee Woh, who retired from the police force in 1984 after 44 years of service. Thus the stories come direct from the horse's mouth as he was directly involved in the planning and execution of the various Special Branch projects that culminated in the collapse of the CPM in 1989.
This book may be ordered from the author Datuk Dr. Leong Chee Woh, contact 0193124759 or ahwohtoi@yahoo.com at RM50 per copy plus postage and packing (RM5.00 to Malaysia). Payment vide his Maybank account, the details being provided when you place the order. For overseas purchasers please enquire about the postage to the above email.
You may also buy his other books: Scorpio the Communist Eraser, Scorpio Against the One-Eyed Dragon, Scorpio on the Dragon's Trail and Scorpio in the Dragon's Playground at the same time when postage charges will be much reduced.
These books are recommended as the true history of Malaya/Malaysia's fight against the Communists over more than 40 years. They should be read by young and old. Leong Chee Woh is a great author and he knows the truth for HE IS SCORPIO.