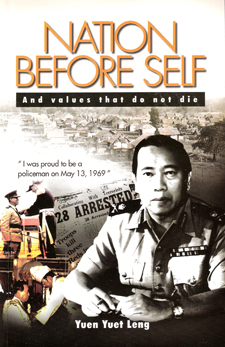 This book recently published by Dato Seri himself is written in 5 distinct parts.  It covers his developing years at King Edward VII school in Taiping, his memories of the Japanese occupation of Malaya and after the war a brief spell as a teacher.  This is followed by detailed descriptions of his struggles against the Communist Terrorists first from 1950 to 1960 as a young policeman and member of the Special Branch in Perak and then, after the assassination of Datuk Koo Chong Kong, CPO Perak, as the new CPO Perak and later, Police Commissioner, Sarawak. In these roles he was continually a new target for the Communists and there are many stories of ambushes and attempted assassinations that very few Malaysians have ever heard of.  Indeed if you were not aware of the background you might believe that this is a novel rather than a true account of the anti-communist struggles that took place in Perak and beyond over more than 30 years.
The book continues with thoughts on the Nation as it is today, sometimes controversial and 'straight from the shoulder'.  This is a fascinating review of the thoughts of one man, and a national hero at that!
The last two parts include firstly more thoughts about where we are today as a nation and where we are going. The last section provides a range of press cuttings of Dato Seri's letters to the press which make fascinating reading.
The book is available at MPH at RM39.90 and in my view, recommended reading for all Malaysians.  If you have already read it then we would be pleased to see your view on these pages as well.