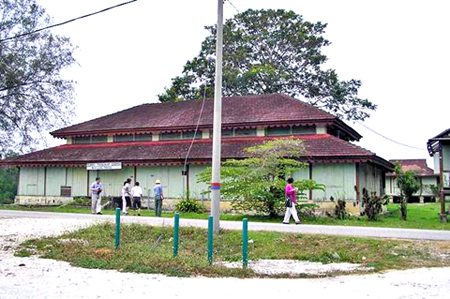 In my last post I featured the Sitiawan Settlement Museum within the Kampong Koh Memorial Garden. Now, you may not know about this aspect of Sitiawan, which actually has an unusual past that is rarely spoken about. Have you ever wondered why – or did you not know – that Sitiawan has the Foochows?
Foochow (Fuzhou) is the capital of Fujian province in China and you may be surprised to learn that on 9th September 1903 (known locally as "double nine day", an auspicious day for local Foochows), 303 Christian immigrants from there landed at a jetty in the Sitiawan River, with 60 more arriving one week later. These were recruits of a scheme run by three Methodist missionaries (known as The Pioneers). More surprising was the fact that these missionaries were contracted by the British administration, led by Federated Malay States (FMS) High Commissioner Sir John Anderson GCMG KCB, to bring in up to 100,000 recruits to grow padi. This was how the British planned to feed the hundreds of coolies working in the Perak tin mines. The Foochows were to be given land to live and grow the rice in the fields around the river. However the scheme failed at once because no more volunteers actually followed the first 363 on their journey to Perak.
The 363 men, women and children were eventually given individual family lots of land of 3 acres (in Foochow they were promised 6 acres) within the government allocated missionary land, but true to tradition, the plots were not ready and there were only seven longhouses available, some 3 to 4 miles away from the jetty, through thick jungle. This, their first settlement, called Kampong Sitiawan, was still (just) standing on our last visit. (see photograph).
Nonetheless, while living in crowded conditions, at more than 50 to a house, for the next six months, these settlers started work, cutting their plots out of the jungle and building their new homes. Thanks to the missionaries and their colleagues it was in 1904 that a church, a school and an orphanage were built, all business being conducted in the Foochow dialect.
However, the British never did their homework well enough, for with only three acres of non-fertile land, the rice harvest was far from abundant and the programme suffered its second failure, leaving the settlers with no livelihood. Consequently 57 ran away to the tin mines in Kinta Valley (less than 80Km away) and the remainder struggled on. Fortunately, for the suffering settlers, this was the beginning of the period of rubber plantations in Malaysia and the remaining families transferred their attentions to this new crop with great success.
Jumping ahead about 100 years, if you talk to any born and bred Christian Chinese in Sitiawan today, they are probably descendants of those original 363 immigrants, for there are many of them. This has given them a tradition of their own, which in turn has given them a focus on their past that many Malaysian groups would be jealous of. This has also kept the families together and in Kampung Koh they have established a memorial garden dedicated to the original settlers and the Pioneers that brought them here. Within this garden there is the 1927 Settlement Church with its Private Museum (by appointment only) depicting the history of the settlers and their descendants. A senior citizens' centre, a children's nursery and a multi-purpose hall complete the complex. This is a great achievement for today's small group of some 300 parishioners and shows just what can be done for heritage if the will is there. Behind the church is an unusual cemetery serving both Christians and non-Christians where one of the Pioneers, Reverend Ling Ching Mi, is buried.
Finally, if this short account has interested you, then you may like to know that a descendant of those settlers has published an excellent book. It is the first available publication that tells the story in detail of the Foochow immigrants and their descendants. It is called, aptly enough, "The Foochows of Sitiawan" (ISBN 983-41824-0-6) and retails at RM49.00. I shall feature the book in my next post.