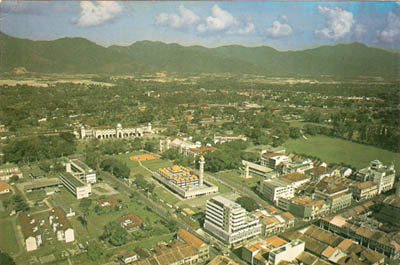 This divided back, unused, card from Airfoto is centred on the Perak State Mosque with the Railway Station clearly visible between it and the limestone hills which form the backdrop against a brilliant blue sky.
The amazing thing about this picture is just what a beautiful and green city Ipoh was in the 1960's. In every direction from the mosque there can be seen grassy spaces and an abundance of trees. Take for example the Birch Memorial Clock tower just to the right of the mosque. It stands surrounded by nature's greenery, open to view and a magnificent memorial to the first British Resident of Perak who was murdered by the Malays. Whatever your politics or your opinion of J W W Birch there is no doubt that this environment was far superior to today's, hemmed in as the clock tower is by a scruffy food centre that replaced the trees (behind which the old Post Office nestled) and surrounded by hard landscaping and litter rather than well tended grass.
But not only the clock tower's environment has worsened but a comparison against today's Ipoh also demonstrates that there has been a general decline in the environment across the City. How on earth did we, the citizens of Ipoh allow this?