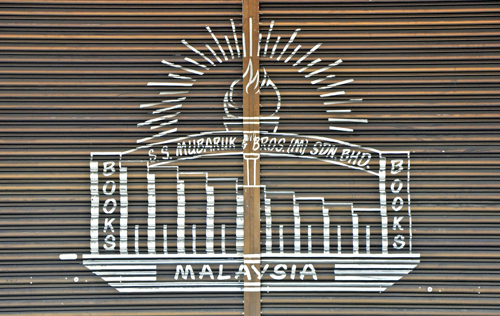 While many will argue that this is not heritage that depends a lot on one's point of view. Here we have the logo brightening up a really dull steel shutter in a heritage building and demonstrating a family's pride in what they do (books for education), their family name and the country to which they belong. Perhaps we could do with more of such pride in our community, but looking around at the city, pride in our home town and its surrounds is obviously in very short supply.
On the heritage front, this logo represents the family's heritage – a business built up by hard work over the years, to make a future for themselves, their children and those who follow them. What will you leave behind for those that follow you? Will it be more than your forefathers left you or less?
Well of course it may be more in terms of financial wealth, property ownership and other material things we all crave for, but what about that other heritage – clean rivers, thriving wildlife, untouched hills, pollution-free air to breathe and more? There is no doubt about the answer to that question is there?
But it is not too late because if each one of you got back that pride and did your bit for the community, much (but not all) could be salvaged for future generations. Soon it will be altogether too late!
Think about it!