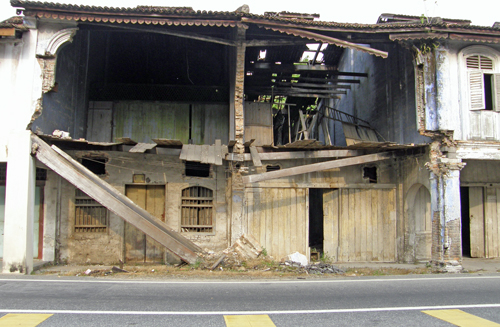 I am sure that all Kinta Valley readers will recognise this bit of heritage that has become a potential horror so close to the Ipoh – Gopeng Trunk Road. Yes, it is Kampong Kepayang and the road is indeed the Gopeng Road up and down which traffic thunders daily. What is more these buildings and several others in the row are in danger of falling into the road and killing some passing motorist (shades of Fair Park's recent tragedy).
Now this is not a new situation and the photograph was taken some two years ago, but passing the site yesterday and with the Fair Park incident in mind, I noticed that the situation was much the same as it was when the photograph was taken, although of course inevitable further deterioration has taken place.
This little Kampung, two rows of houses close to the road (and in which some families still live), with an old traditional mosque at one end, could have been a nice little heritage enclave . Making it such has been talked about many times by those in authority, but as usual nothing happened. Of course it would have needed to be pedestrianised  with a by-pass and that would have been costly, but looking at how much gets spent on trivia, it would not have been wasted.
But what about today, clearly there are only two options – Save it or Destroy it. What do you think should be the way ahead? Whatever is decided it must be done quickly to prevent another disaster.