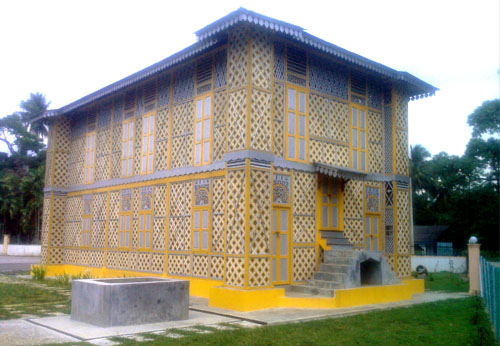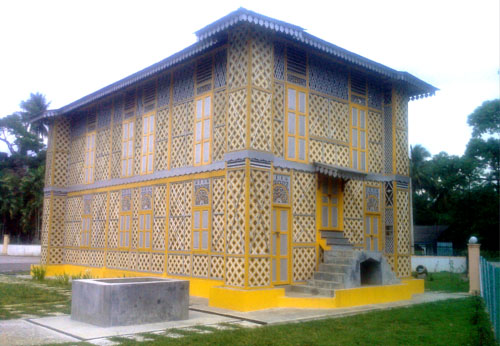 Perak has plenty of heritage buildings, many of which seem to be ignored by their owners or the government. But here is a wonderful heritage building for although not more than 100 years old it has just been restored by the National Heritage Department. Many will not believe that this building is a mosque for it is square, double-storey and without minarets. It may be the only one of its kind in Malaysia.
Kuala Dal mosque was built in 1936 by the village craftsman to an age old tradition and the upper storey was used for prayers while downstairs was a general purpose meeting room where apart from meetings, religous lessons were given to both adults and children and in the fasting month, the village would break fast there. The construction was funded by the 30th Sultan of Perak, Sultan Iskandar Shah who had seen the villagers praying in a dilapidated madrasah. It is very similar to the old palace, Istana Kenangan at Kuala Kangsar, woven bamboo in a diamond pattern as the photograph below shows. Sultan Iskandar Shah also built the new palace, Istana Iskandariah, in Kuala Kangsar.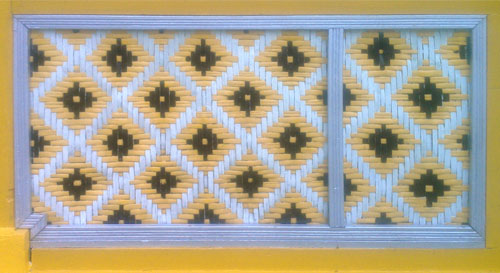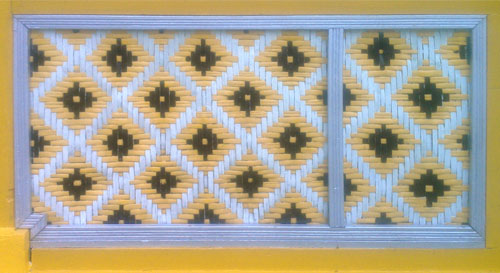 It is painted in the colours of Perak, black, yellow and white. Local suggestions include the idea that it is going to be turned into a museum or gallery to add to the attractions of the area, but that may just be hearsay for today there is a notice advertising an Umrah meeting which indicates it may still be used for religous purposes, in addition to the second village mosque built in 1976. Today it is locked tightly shut. However it is a fact that back in the 1950's and 60's many Westerners travelling on the old road to/from Penang would stop here for a photo session. Let us hope that after such a splendid restoration, good use will be made of the building and encourage tourists to once again stop for that memorable picture to take home.