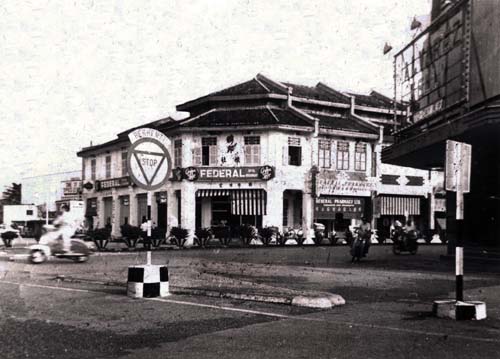 ….when 'Alvarez Kelly' was being shown in Ruby Theatre. (Yes, on the far right is the cinema hall which was part of the Lau Ek Ching building, along Anderson Road.)
William Holden played a 'suave Mexican cattleman' named Alvarez Kelly who unwillingly found himself caught in a Civil War. Well, to those of you who saw the movie – you know what happened next!
Facing the camera is the Federal Hotel and Restaurant. From what Google told us, the hotel is STILL there! Somewhere behind this hotel is another cinema – Cathay. Incidentally, Cathay was showing 'One of Our Spies is Missing' – a movie from the famed 'The Man from U.N.C.L.E' series.
I wonder how many Solo and Kuryakin fans saw the movie!!