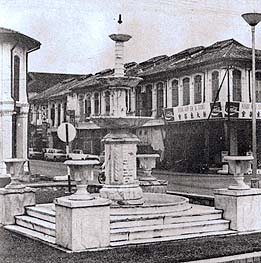 This all-marble fountain was built in memory of E W Birch, Perak's British Resident from 1905-1910. It was at the south end of Belfield street – sadly, now another fountain has replaced this beauty!
We were once told by a senior resident of Ipoh, that during the Japanese Occupation the four corners of the fountain were 'decorated' with severed heads!
Also, later in 1957, the Town Council had a sign put up at the base – to prevent people from drying their laundry/chillies/and other such food stuff by the fountain!
Anybody out there have 'other' such memories of this fountain? I also wonder what's become of the original marble fountain…….