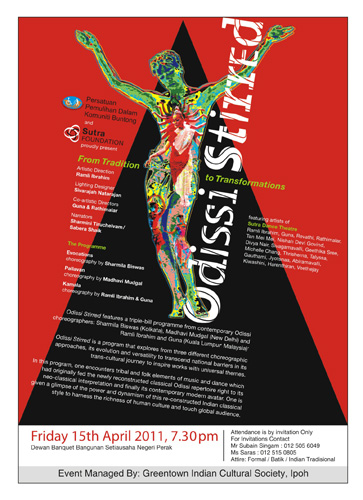 Persatuan Pemulihan dalam Komuniti Buntong & Sutra Foundation proudly present ODISSI STIRRED – from Tradition to Transformations.
Odissi Stirred explores the 3 different choreographic styles of: Sharmila Biswas (Kolkata), Madhavi Mudgal (New Delhi) and Ramli Ibrahim and Guna (Malaysia). These 3 styles will give the audience a 'glimpse of the power and dynamism' of Indian Classical style – which in turn 'transcends national barriers in its trans-cultural journey'.
This event will be held at the Dewan Banquet Bangunan Setiausaha Negeri Perak (Banquet Hall, State Secretariat Building), on Friday 15th April 2001, at 7.30pm. Attendence is by invitation only.
Those interested kindly call Mr Subain Singam (012-5056049) / Ms Saras (012-5150805).