For those who have been waiting patiently, here is UV's Episode 8 of 'Schooling in Ipoh'! 🙂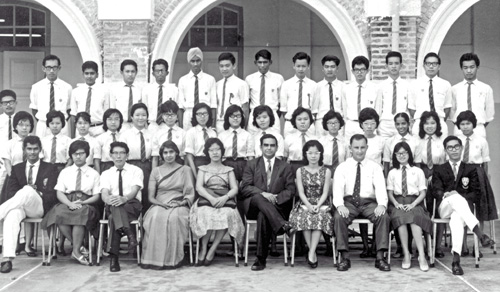 Episode 8: Schooling in Ipoh
Life in Lower Six quickly went by.  Soon we became the seniors and new Lower Six students were coming in.  Many of those, especially those from MGS Ipoh were my friends from MYF (Methodist Youth Fellowship).  'Ragging' was the usual activity for these new Form Six students.  It was really mild as each one had to appear before the whole Upper Six and was asked various questions.  It was more like an introduction of themselves to their seniors.
With that done with, academic work became our priority.  We have the HSC (Higher School Certificate} Examination to worry about.  This is one hell of a tough nut to crack!  We sat for four main subjects: English (English Literature), Geography, History and Economics as well as General Paper.  There were 3 papers in English and Geography and History and Economics had two papers each.  The minimum requirement for entry into local university (Only one then in Malaya – University of Malaya, Kuala Lumpur) was two A Levels Principals and two A Levels Subsidiary passes (equivalent to an Ordinary O Level pass).  If one does not pass with at least a Six in all the papers in a subject, one would be given a subsidiary pass.
Most of us would be concentrating on getting at least two Principal passes or three at best but the brighter ones would strive for 4 and even try to score distinctions in as many subjects as possible.  Arts students are not noted for academic excellence and to get one or two distinctions would be very outstanding in those days.  I decided to go for three and decided to leave English out, merely hoping to score a Subsidiary pass in that subject.  Why?  Our English teacher was Mrs. Teerath Ram Senior.  She was boring to tears and I could never appreciate her teaching.  I think the only thing I learned from her was the title of the poem about Omar Kayam!  Until I started teaching poetry to some students as a private tutor, I really did not know what the content was!
In order for us to pass those three papers even at Subsidiary Level, we had to beg Mr. Chin San Sooi to give us extra lessons on poems.  Passing the paper based on Shakespeare's plays was not difficult as we could learn on our own with the help of guidebooks (something very popular in the 60s among students).  However, the Romantic novels were left aside by those, like me, who didn't want to get a principal pass.  Thanks to Mr. Chin San Sooi, many of us were even able to get a principal pass, the writer included!
I banged on getting a distinction in Geography, as it was my favourite subject and taught by my favourite teacher.  History was great when we had the late Ms Tye Soh Sim (Mrs. Eddy Chin) teaching us in Lower Six, but unfortunately she left for a scholarship to do her higher degree in Canada at the end of our first year.  Ms Chong Nyuk Mui took over the subject.  I was her 'artist' drawing those Historical Maps on the Board for the rest of the pupils to copy.  I vaguely remembered they were European maps (rather difficult to draw) as we were doing European History from the 15th Century till Modern Days!
Economics was taught by a Ms. Wan and later a Ms. Tan.  I remember Ms.Wan as someone who would come to class wearing cheongsam.  She has a 'unique' way of pronouncing certain words and names.  I can always remember how she would call Chevarani (Mrs. Siva now).  Most of us would try to suppress our laughter each time she called her to answer a question.  Many a times, the class almost brought her to tears!  She left teaching after a short period with us.  Ms Tan took over and was a direct contrast.  She spotted the then fashionable slanted white framed glasses.  She wore mainly Western dresses and was slim and petit.   Many of the boys must have 'fallen' for her (writer not included).  Her teaching was excellent as most of us did well in this subject (except for some girls)!
General Paper was taught by Rev. Butler White, a pastor of Wesley Church but also taught as a teacher in ACS Ipoh.  His lessons were never dull.  I did not shine in this during my Form Six days.  I was only a moderate writer then and still is now.
In Upper Six, the Prefects were being scrutinized to be selected as Head Prefect and Deputy Head Prefect.  Manogaran  would has slotted easily into the Head Prefect slot and the post of Deputy would go to a Science Stream Upper Six Student (if any qualify) or an Arts student when they fail to get one from the Science Stream or the Girl Deputy Head comes from the Science Stream.  However, Manogaran was a playful character and very often seen by the teachers to 'misbehave'.  His greatest sin was to go around poking girls on their side of their waist to make them scream and was caught doing so, one day, by a teacher!  He was therefore not made the Head Prefect but the Deputy Head Prefect.  The Head Prefect posts went to Yap Teong Aun (became an Engineer later) and the Girl Deputy Head Prefect went to Ung Swee Kim (daughter of the famous Mathematics teacher from Anderson School, Ipoh, Mr. Ung Kwek Chow).
At the end of the year, we sat for our examination in MGS Ipoh.  Yes, the Arts HSC Centre for us was in MGS Ipoh and not in our own school as we had no hall big enough to accommodate both the Form Five Examinations and the Form Six Examinations.  I already had my scooter (Lambretta) license in Lower Six and I transported my good friend, Loh Chin Hin from Rose Garden, to MGS every day we had a paper.
The examinations were soon over and it was a period of waiting for the results which came some time in March the following year.  Some of us went to work, others took up various courses.  I did neither but lots of church works – helping in the office, etc.  When the results came, most of us qualified to enter university but some couldn't because of financial restrains and so had to go into teaching colleges. 
I was fortunate to get into University of Malaya, although at first I wanted to opt for law in University of Singapore, but because PSA sent me a set of application forms for University of Malaya and stated that I was on the reserve list for a Teaching Bursary, I submitted my application for an Arts Course in University Malaya instead.  They never granted me the bursary!  My parents struggled to pay for my fees and boarding.
On a sad note, Mrs. Teerath Ram died before the results came out.  It was rumoured that she took her own life by burning herself at the back of her house.  When my results came out, I dreamt of her walking from her house (in the school compound) towards the porch of the Main Building of ACS Ipoh and asked us for our results.  I was there, in the dream, with a few of my classmates.  I woke up with a start!  It was so real.  She was dressed in her usual flowing saree!
Life in school as a student ended in December 1964.  I would return to ACS Ipoh not as a teacher but as a Principal 46 years later!  I never taught in ACS Ipoh although I was a teacher, Senior Assistant, Afternoon Supervisor and Principal in other schools in and around Ipoh before returning to ACS Ipoh.