Here's a little History lesson for you!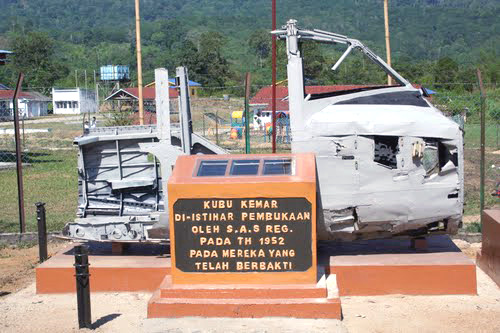 picture courtesy of Mohd Asri bin Rosdi
THE BUILDING OF A MALAYAN JUNGLE FORT FORT KEMAR 1953
By Dennis Wombell
____________________________________________________

INTRODUCTION
Browsing one day recently on my computer, I happened to look up Fort Kemar and found a site which describes it as it now looks. I was incensed to see that the site includes a photograph of a monument (taken by Mohd Asri bin Rosdi) in the form of a wall, commemorating the building of the Fort. It is inscribed:

KUBU KEMAR
DI-ISTIHAR PEMBUKAAN
OLEH SAS REG
PADA TH 1952
PADA MEREKA YANG
TELAH BERBAKTI

Translated thus

FORT KEMAR
DECLARED OPEN
BY THE SAS REG
IN 1952
TO THOSE WHO SERVED

The Fort was neither built nor opened by the SAS, nor did it exist in 1952 and the following is an account of the building of the fort in 1953 by the Malays of the Malayan Police 18 Federal Jungle Company.

For the second part of this story, click here.