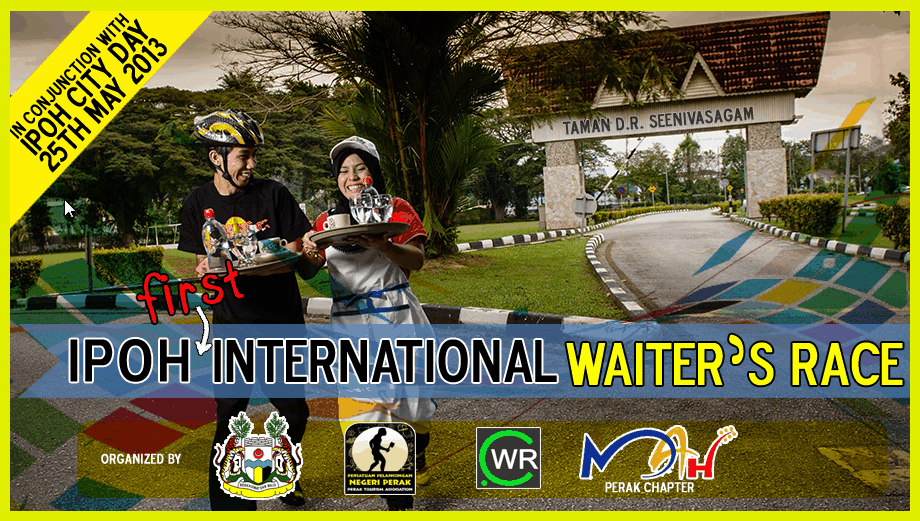 Despite Ipoh's long romance with all things food-related and the abundance of hotels, restaurants and clubs in town, Ipoh has never before taken part in the international tradition of the waiters' race. On the 25th of May 2013, that is about to change.
Organised jointly by the Ipoh City Council (MBI), Perak Tourism Association (PTA), Malaysian Association of Hotels (MAH), Perak Chapter, and the International Waiters' Race Agency, Ipoh will be hosting its first International Waiters' Race in D.R. Seenivasagam Park.
The Waiters' Race (www.waitersrace.com) is a tradition originating in France, created to exhibit the skills of the famous French garcons by challenging them to race a street course while balancing a tray of beverages on the palm of one hand.
The earliest photographs of a Waiters' Race were taken in the London Race of 1901, but the French roots of the race are over a century old.
Today, Waiters' Races are held all over the world, including several held in Malaysia in the past. This is, however, the first time one will be held in Perak.
Demonstrations of ice-carving, flower-arranging, food-carving and a barista competition in coffee decoration will be held, along with a mini-treasure hunt, children's race, parade of Perak school bands, and cheerleader demonstration for younger participants.
Over one hundred waiters and waitresses from Perak's favourite eateries will be running the 1 ½ kilometer course through the park in three different races.
Visiting participants will be included from Ipoh's sister city in Japan, Fukuoka, and Ipoh's "friendship cities" Medan, Pusan, Hangzhou and Guangzhou.
Each runner will attempt to gain the fastest time while balancing their tray on one hand, without spilling any items. Running alone is worthless; winners have to arrive with a full tray or close to it.
The first race will be a Full Service Waiters' Race where competitors run in traditional waiters' attire over a challenging course including the steps leading to the bridge and a turn through the Japanese Garden.
The Quick Service Waiters' Race will include hotel students as well as professionals and allow running shoes. Both races are open to men and women, prizes to be given separately to the best gentleman and best lady.
The third race will be an Amateurs' mixed relay with teams comprising two men and two women each, dress code open to any attire.
Organizers hope to make this an annual event, celebrating Ipoh's waiters, waitresses and culinary heritage for locals and tourists alike.