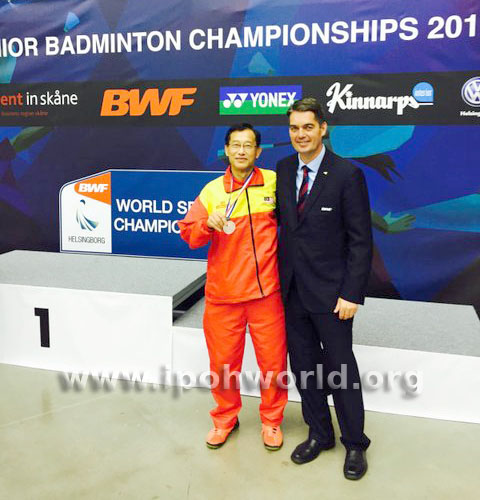 We thank SK (one of our Readers) for sharing this with us. The gentleman in the tracksuit is Chan Wan Seong – who won the Bronze Medal in Men's Singles 60+ category at the recent BWF World Senior Badminton Championship held in Helsingborg, Sweden. Posing with Chan is the BWF President Poul-Eric Hoyer Larsen (himself badminton legend!).
SK also shared this video link  https://www.youtube.com/watch?v=S1hhMSyvKMI&feature=em-share_video_user
According to SK:
Chan Wan Seong won a Silver in the combine MD 120+ category partnering  Ong Sin Oong  in Changsa  Hunan China. Chan WS also  won a Gold  medal in MS 60+ category in Changsa, Hunan, China held from 29/10/2015 to  1/11/15.
Right now, Chan Wan Seong is in Pattaya competing in the MS60+ category in the Pattaya Sawasdee Cup from 13/11/2015 to 15/11/2015.