Today we're featuring the 3rd installment of UV's Schooling Days.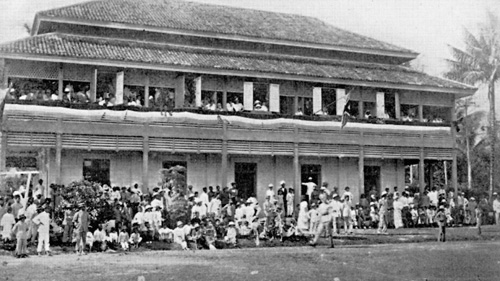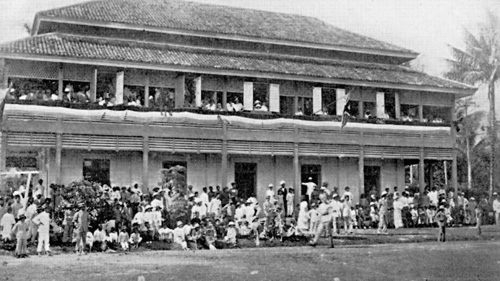 Picture of the ACS Primary Building (from the 1800s), taken from the Kinta Valley book.
 Episode 3
I didn't do too well in my first year in ACS Ipoh. I was placed in the 'B' class the following year. It knocked the pride out of me and possibly the high expectations my parents had of me. It also set me off, young as I was then, to accept disappointments and being taken down a peg or two. I settled in easily in the new 'B' stream. Practically all schools stream their students according to their academic performance during that time. There would be class positions and 'Standard' positions based on the total marks of all the subjects. So if you are first in class in the 'A' stream you may be first in Standard but should there be someone from the other streams obtaining a higher total than you, you may end up being second in Standard. Nobody wants to be the last in class (even in the best class) or worse still, last in the Standard!
It was this system of evaluating a pupil that started this silly race to be academically 'excellent' in our Malaysian education system. Parents talked about their children having obtained this or that position in school. "O, my son was first in class", a proud parent would proclaim proudly while another would sheepishly say, "My son only came out 10th." So what if he is first or tenth or for that matter last? Is his future determined by the so-called 'position in class and Standard?
Mixing with boys who 'were not so clever' so to speak widened my outlook in life more. It proves to me that I am also someone who is not at the top all the time. My desire to lead a life of a boy in the Fifties just started then. The pressure was off and I could do with the minimum of studies and get by. I started playing games amongst my neighbourhood friends; go on cycle rides every evening and practically the whole day on weekends. Life was great!
I had my first sex education in Standard 4B in ACS Ipoh. There were some 'naughty' boys who would tell you tales of 'sexual exploits' (more like peeping) that they had experienced and one even showed what masturbation was in class! (I hope I am not censored.). Yes, during the Fifties we were not so fortunate as to get all the pornography via the Internet. It was all related through word of mouth from 'experiences' someone had. All the innocent ones (me included) would listened attentively to 'juicy' tales from the more 'experienced' fellas.
I had a lady class teacher then, Mrs Lee Hoo Keat, the daughter of Mr Aw Boon Jin, our Junior Supervisor. ACS was divided into Primary, Junior and Secondary then. Mrs Lee was a tall lady and would often come to class dressed in 'samfoo' (a Chinese form of attire made up of a pair of pants [straight cut] and a short blouse of the same floral cotton material. While she teaches, she would be seated behind her teacher's desk and she would cross her legs and swing the leg that was placed above the other. Eventually, her shoes, which she put on loosely, would fly off her foot and fly out of her desk region and someone has to send it back to her. The boy seated at the front of the row that was nearest to her desk has this task.
Our English teacher was Mr Aw Boon Jin and we would dread his periods. Every mistake we make would be 'rewarded' with a swipe of his thin cane that he carried around across our palm. I learned my English Grammar and spelling very well those days. Even worse would be detention after school for serious and repeated mistakes. I was detained once and my brothers left me behind and I had to walk home. It was a lesson well learned.
History was taught by Mr. Wong Chong Choon (we nicknamed him 'Choon Toi' because he was rather mean to us). He would from the first day of his History lesson about the Bronze Age asked us "What is bronze?!" For weeks that would go on and none of us 'stupid' fellas could answer him. This would go on for practically a whole term and he would never give us the answer. I think I did not find out exactly what bronze was until very much later. I remembered this teacher in particular also because he made a classmate of ours stand on a chair with his pants off as a punishment! I can't imagine what would happen to a teacher who does this today!
In Standard 5, I once had a hockey stick landing on my head by a teacher for talking while he was teaching. I too will never forget him. He was Mr. Ng Pak Hing, a brother of the famous Dr. Ng Yoke Hing, Chairman of the Board of Governors of ACS Ipoh. I never told my parents about this incident until I left school. Luckily I must have had a thick skull then. Punishments were dished out in all sorts of forms those days and we do not go crying back to our parents for obvious reasons. Our parents will blame us for being naughty and that was why the teachers punished us. We also took our punishment like a man and would consider it sissy to tell our parents.
In Standard Five, I had a very interesting teacher. He was Mr. Robert Leong. He runs a small shop in Anderson road (half a shop) selling comics and other gadgets. Because of his outside trade, he would tell us fantastic tales from comic characters like Superman and Captain Marvel. These characters come to live the way he told the stories with gestures, facial expressions and 'sound effects' (made from his vocal organs only). This would then make us interested in the comics he sold. No, I am not saying he sold them in class too! We would then go out and hunt for them and long for each new one. He was very creative too as he would invent new stories and characters with superpower. Once he told us how his 'hero' could fly because he ate lots of onions and let off gas to propel him into the sky!
Yes, we had some interesting teachers then. Soon it was the year for the Secondary School Entrance Examinations. If you fail this examination, you cannot get into Secondary School. You would become a Primary School dropout! The year was already 1957. It would be Merdeka soon. The Examination would be post Merdeka. By the time I was admitted to ACS Ipoh the Primary School Grading System had already been changed. It was from Standard 1 to Standard 6. (Primary 1 and 2 were dropped and the old system of Standard 1 to 9 abandoned. Secondary school started from Form 1 to 5 as it is today with Lower and Upper Six for those who wanted to go further to Universities.)
I took my studies more seriously by then. I spent more time reading and learning but still played a lot with my neighbourhood friends. I continued with my model making hobby and played with self-made toy soldiers and table-soccer. I too was very creative and imaginative in the way I created my own play things and battle scenarios. I use my bed, mattress, blanket and pillows to create battle terrains of various types for my mock battles that would last hours. I love to read war comics. Since my brother-in-law was an ardent fan of those war comics depicting battles of World War II, I had the opportunity to read lots of them. These gave me a very good background of military tactics and strategies and reading books about pilots (Biggles) and war heroes was my craze.
The end result of my taking my studies seriously was I passed very well and for a 'B' class boy to end up with the 12th position in Standard was a surprised to my teachers. I remembered Mr. Ng Ah Fook announcing the result to my class and when he called out my name and position and I was not really overjoyed, he showed a shocked face. I had never been excessively overjoyed by any major successes in the academic field no matter how good the results may be. To me, it was merely another hurdle to cross and the next one to face.