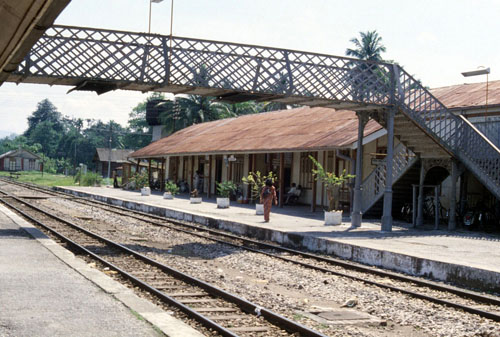 This was Tapah Road Railway Station in 1980. Old fashioned, rustic and clearly a leftover from the Colonial days that Malaysia seems to be so ashamed of. But those who feel this way won't have to be ashamed of their history for much longer as we are told that KTMB are to demolish all the old stations. Kuala Kangsar, Batu Gajah, Tanjung Rambutan and all the others will soon be gone. And then travellers can enjoy the clinical atmosphere imparted by stainless steel and concrete, without having to look back at what life used to be like. However, if you wish to look back then click here where you will find a photograph of the station opening celebration in 1893.
Seriously though wouldn't one or two of these old stations make great railway museums for the thousands of rail enthusiasts the world over? I thought Perak State wanted to encourage tourism!
Incidentally we are told that Tapah Road, being  on the road leading to Tapah led to its name and that this name has drawn some criticism from local Malay linguists because it has a colonial 'stain' on it. A number of towns in Perak also have or had a similar 'stain' such as Slim River (still in existance), Port Weld (now Kuala Sepetang) and Teluk Anson (now Teluk Intan). Tapah Road maintained its name because the equivalent version in Malay (Jalan Tapah) is not suitable as a station is not normally named after a road, but a place. History is fascinating.
The photograph is again courtesy of Jerry de Witt. Thank you sir for thinking about us.