We present to you a little tribute to Mr NC Thomas – a man who was both Friend and Mentor to many a youth in Ipoh in the 1950s. We thank IpohBornKid for this write-up!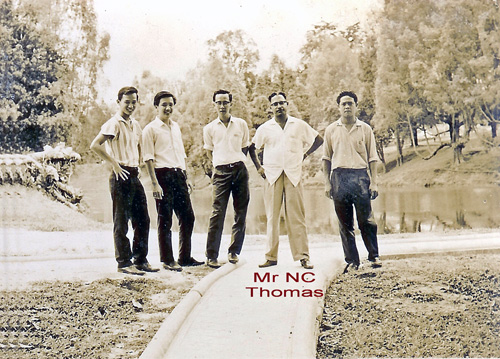 A Tribute to Mr NC Thomas – Pioneer in Youth work
Mr NC Thomas came to Malaysia in the early 1950s and took a teaching position in St Michaels, Ipoh. He was an English teacher and was among the great English teachers of Indian descent.  Good grammar books were written by Indians and used throughout Malaya then.  Mr Thomas was a Malari, a devout Catholic, quite and unassuming man.  Yet his contributions to the Youth activities in Menglembu are legendary.  The author owed this man a great debt, not only in adolescent personality development but also for the foundation laid by him for a successful academic achievement later in life.
When Mr Thomas arrived in Menglembu, he started a youth club in Lahat Road opposite the Indian settlement and adjacent to the Lutheran Church in Menglembu.  It was a wooden house raised by pillars, and one can play underneath the house without being noticed.   When the youth club was established, the elder boys were part of the youth committee whilst the author was not.  The author and some youth often disrupt the youth committee meeting by being a nuisance under the house.  The situation was corrected when these errand kids were roped in by Mr Thomas to do something useful.
The youth club has boys and girls in it.  Most teenagers then attended the Ipoh English School, viz. ACS, St Michaels, Anderson, Convent, MGS and some attended Chinese schools like Yuk Choy and Perak Girls.   There were boxing, weight lifting inside the clubhouse, but soccer was played across the field adjacent to the Indian housing.
Mr Thomas never smoked nor did anybody see him drink (if so, never in public).  He set a good example of clean living for teenagers under his charge.  Parents were delighted to have Mr Thomas look after their kid's interests.  In this, Mr Thomas has gained the utmost respect from the parents in Menglembu.
As a teacher, he is soft spoken, not easily angered, good tempered but firm.  In his bachelor days, he always has cooked meals by an Indian family and delivered to his residence in the Youth Club.  Later, Mr Thomas moved to another location in Ipoh, and the Youth Club went with him.  The place was near the banks of the Kinta River and close to the Mosque in Jalan Datoh.
One of Mr Thomas' most popular activities was excursions.  In 1957 or 58, he organized an Excursion to Kuala Lumpur.  For small town people, it was a big deal.  To top it up, Mr Thomas has political clout.  He arranged the visit to see the first Prime Minster of Malaya (Tengku Abdul Rahman) and the Education Minister Ong Yoke Lin.  During the visit to the PM's residence in KL, we had an opportunity to greet the PM in person and for a bonus; we were also introduced to Miss University (Miss Japan) who was visiting the PM at the same time.  We then met up with the Education Minister, Ong Yoke Lin and have afternoon tea with him.  The visit was a basic introduction to politics and politicians.  For a kid, the author did not recognize the importance of such a meeting but the benefit was realized in later life.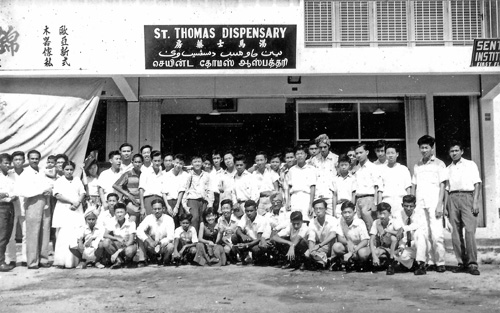 Mr Thomas also took us to see his relatives who operated the St Thomas Dispensary in KL. In a group photograph shown here, one can see the youth of Menglembu rubbing shoulders with professional medical personnel in KL. Another observation is the multicultural group of people in the photo, all traveling together in harmony.
There is one story I must relate.  Mr Thomas took me to see his friends who was a former student of his and lived in a fishing village called Morib.  All five of us (photo enclosed) went for a trip to Seremban on a Morris Minor.  On the way back, we traveled on the coastal road lined with palm oil trees.  Somehow, the author convinced his travelling companions that he could drive and they let him.  In an attempt to overtake a lorry, the inexperienced driver hit the uneven surface of the right edge of the road.  The car started to swerved and the brake was applied fully (like emergency braking).  The little car then made a 180 degrees turn on the road.  It was miracle because they were no oncoming traffic in either direction and missed slamming into the palm trees on either side.  It was scary and the author's driving opportunities were curtailed.  After returning to Morib, they all went to buy a lottery ticket.   None of them ever related this incident to my mother.  Phew!
As I left Malaysia for overseas study, I lost contact with Mr Thomas.   I was informed that Mr Thomas later got married.  If the descendants of Mr NC Thomas are in Malaysia, please accept our thankful acknowledgement of his significant contribution to Menglembu youth of the 1950s generation.
AP@IpohBornKid
[Note: Due to the lack of space, the other pictures which accompany this story will be uploaded onto the database in due course.]