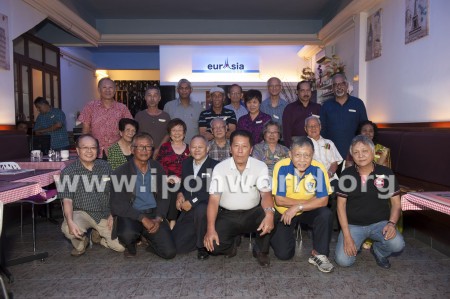 Picture courtesy of Poh Choo Lim
Thanks to Ipoh World, our plan for organizing a reunion with our primary school teachers has finally materialized. From the few postings in their blog, exactly five years to the date after the first posting, Nov. 22, 2010. We were able to gather about 30 former students to participate in this low-key but yet auspicious occasion.
Former students of NTPS, Jalan Pasir Puteh, were able to honour their teachers to a dinner at the Eurasia Cafe on 21 November, 2015.
Annual dinners among alumni are very common but none can lay claim to organizing one for their primary school teachers who are already in their eighties. The 30 or so students who turned up for the hurriedly organized occasion are mostly retirees themselves in their sixties. Tears and cheers of joy flowed freely when the students and teachers met, some for the very first time after almost 50 years! Another surprise in store for the organizer was that some of the attendees, unknowingly to him, were from the same class way back in the late 50s and nearly 60s.
Everyone was so engrossed in catching up with each other that the MC had a difficult time controlling the crowd and gave up after a few attempts at restoring order before the start of dinner. In fact, he had to take a back seat for the rest of the night as everyone, teachers and students alike, took turns to introduce themselves as well as taking centre stage unannounced at the karaoke session.
Among the distinguished attendees were Dato A. Paramasivam, the newly retired deputy CPO of Perak, Dato Dr. N. Raman, former Director of Hospital Bahagia, Datuk Lean Meng Seong, retired banker, Prof. Dr. Mohd. Jamil Basha, retired university lecturer, Ir. Oon Eng Hock, a consultant, several doctors and many others, who were all former students of this school. They paid tribute to their all time favourite teachers Mr. Charlie Foo, Mr. Yeoh Seng Choon, Mdm Joycelyn Aw, Mrs. Kamala Ramanathan and Mrs. Hew Chai Kee (who is immortalized in Lat's cartoon) by playing the song "To Sir, With Love" to these few dedicated and selfless teachers.
SH ONG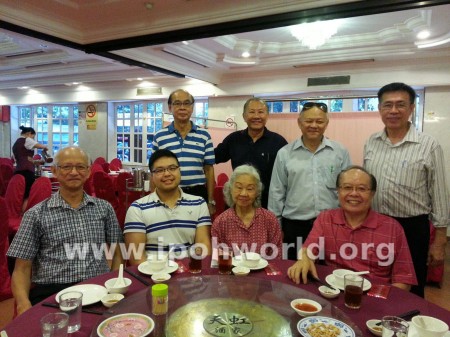 As Mdm. Chow was unable to be present for the dinner that night, a special lunch was organized for her before she caught the flight to Singapore with her grandson. This was another last minute arrangement and only the initiator, Datuk Lean Meng Seong and a small group of former students were able to attend the lunch. It was another warm and emotional gathering for all present.