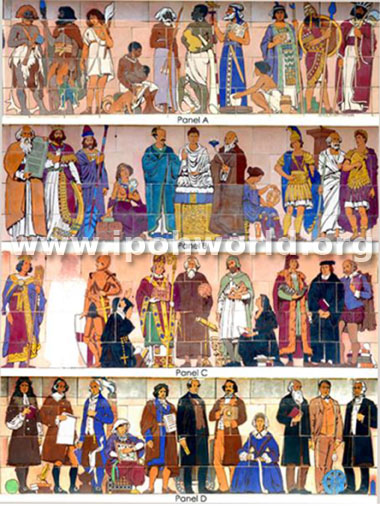 Do you recognise these panels? They can be found on the four sides of the Birch Clock tower. Still wondering what I'm talking about? Well, the next time you pass by the clock tower, take a closer look 🙂
THE J W W BIRCH MEMORIAL CLOCK TOWER PANELS
The Growth of Civilization.
The following is a description of the figures represented in the painted panels:
PANELS A AND B: Prehistoric Times to the Time of Christ.
PANEL A NORTH.
The Stone Age – A Hunter.
A Fisherman.
A Woman spinning.
The Iron Age – Man and Woman.
The Early Eastern Peoples – A Nubian with gold and ivory.
A Chaldean Astrologer.
A Woman making pottery.
An Egyptian.
An Assyrian.
A Persian.
PANEL B WEST.
The Eastern Meditteranean – Judaism.
Moses.
David
A Phonecian.
A woman representing the Agean civilization.
The Far East – Confucius.
Buddha.
Lao Tzu.
Greece and Rome – A woman representing Greek Art.
Alexander the Great.
A Greek Philosopher.
Augustus.
PANELS C AND D – From the Time of Christ to the Present Day.
PANEL C SOUTH
The Byzantine Empire – Constantine the Great.
Islam – Mohammed (pbh).
The Age of Chivalry – A Crusader.
The Age of Faith – St. Clara.
Gothic Art – A Bishop with a model of a Cathedral.
The Renaissance – Science – Galileo.
Art – Michael Angelo.
Literature – Vittoria Colonna.
Enterprise – Columbus.
The Reformation – Luther.
The Elizabethan Age – Shakespeare.
PANEL D EAST – Modern Science, Art and Social Services.
Physics – Newton.
Medicine – Harvey.
The use of steam – Watt.
Easter Art – Embroiderer.
Music – Beethoven.
Engineering – Stephenson.
Photography – Daguerre.
Social Service – Miss Nightingale.
Natural Science – Darwin.
Electricity – Edison.
Humane Surgery – Lister.